Description
Since 2014, Philly Startup Leaders (PSL) has helped 44 companies start-up through the PSL Accelerator; an annual program designed to equip early stage founders with the knowledge and network needed to secure long term success.
In this 12-week program, founders participate in educational sessions led by seasoned entrepreneurs and work with dedicated mentors to refine their business models and accelerate growth.
Come celebrate the end of our 2019 Accelerator program and hear from the founders of the twelve participating startups: Arke Aeronautics, Cotton Wars, Health Genie, Hopskip, Leadovate, MILES, NOMO Fomo, NuMoola, Swirl, Trust and Go, Vetd and WEach Seats. These dedicated and passionate entrepreneurs will take the stage to pitch their businesses and share what's next for building their companies.
A big thank you to the PSL Accelerator network: our guest speakers, program mentors, venue hosts and other supporters who have dedicated their time, energy and connections to our participating founders!
While the PSL Accelerator Pitch Night is the celebratory culmination event to our annual program, it is only the beginning for these promising startups. Learn more about our 2019 PSL Accelerator startups!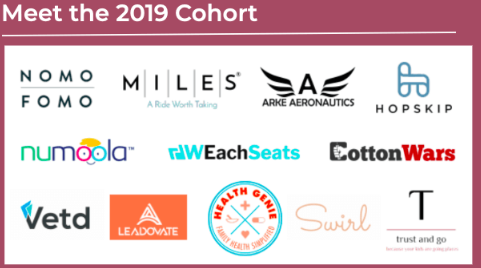 If you are an active investor interested in meeting with one or more of the presenting startups at PSL Pitches, reach out to engage@phillystartupleaders.org!
Thank you to our 2019 Program Sponsors