Location
The New Echo Lake Resort
185 Echo Lane
Afton, NY 13730
PSF 7th annual festival: Shabbos with Nature!
About this event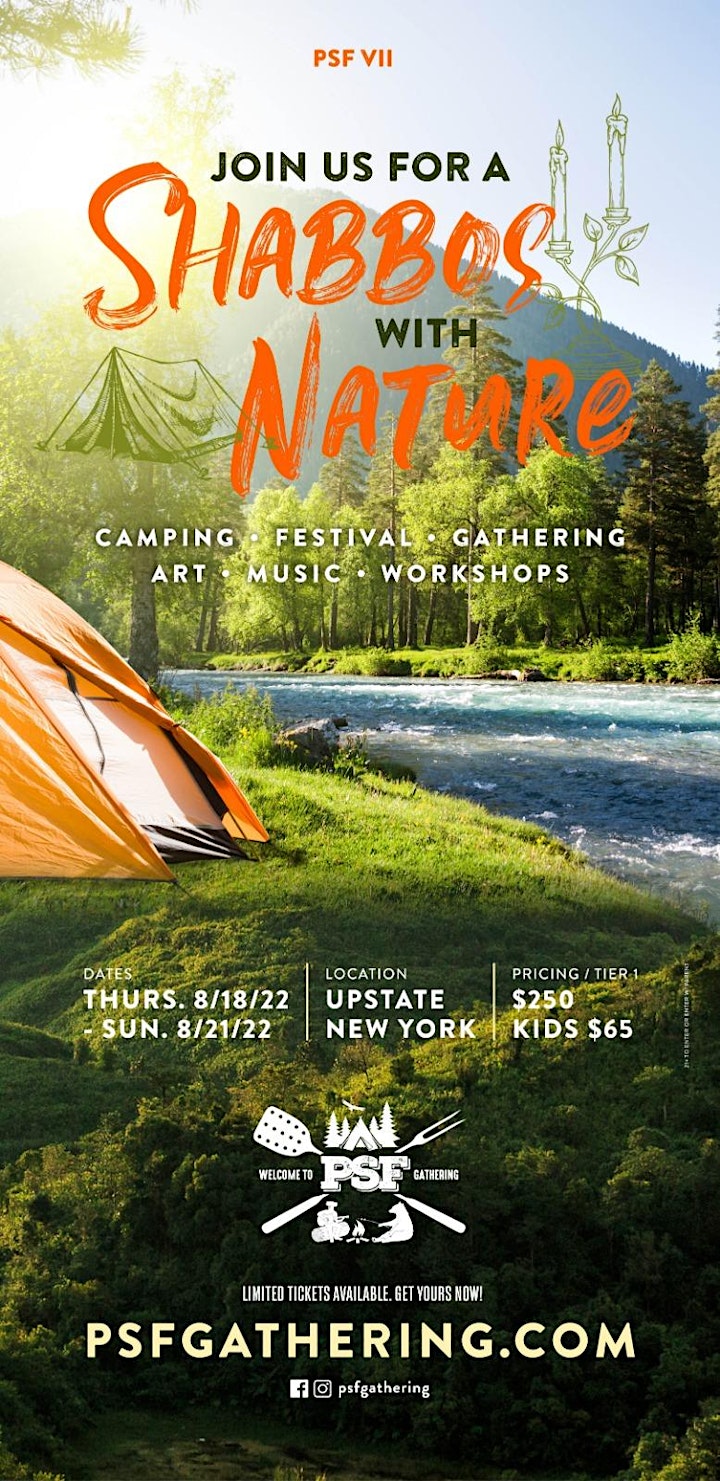 PSF-7: Shabbos with Nature is our 7th annual 4-day weekend getaway journey.
It's a Weekend, Camping trip, Shabbos, Gathering, and Festival all packed into one.
We will be gathering in a beautiful space to share a Shabbos together in nature, connecting to the earth, ourselves, and others in the process. This event will include Art, Music, Great Shabbos Meals, Prayer, and Spiritual Activities, individually hosted workshops, and other fun activities. Be sure to invite your friends and family, because that's what makes our Gatherings more special.
What to bring: Everything you need to be comfortable in the woods for a long weekend. Oh and sustenance, bring food. We provide 3 Shabbos meals and a Kiddush but the snacks in between are on you 😊
Our goal is to unite like-minded individuals who share or have a passion for good energy, positive reinforcement, and constructive socializing. Our focus is on creating an environment of good vibes, promoting wellness, soulful chills, and a warm atmosphere. If you enjoy camping, good food, music, dance, socializing, and just plain having a good time with people who you can relate with well, our family is your family.
Come join us for our get-together and see why so many people cannot wait for the annual PSF gathering! - Welcome back!
Who we are: our community is made up of a welcoming tight group of Heimish-Spirited individuals who are striving for higher consciousness in the pursuit of happiness while navigating a modern world. We also love to chill, and explore the outdoors! We cherish our community and aspire to invite like-minded friends to join us on our adventures!
Ticket Policy: All ticket sales are final however tickets can be transferred to another person, changes need to take place at least a week prior to the event.