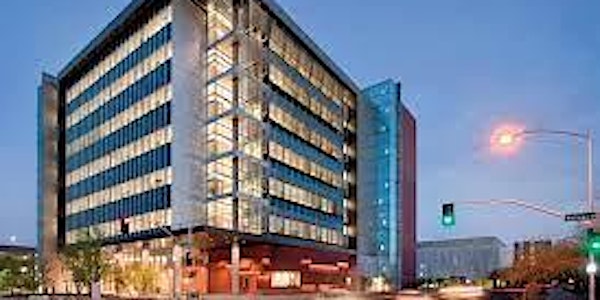 PSA Presents: Phoenix Emerging Screenwriters Conference
PSA brings some of Hollywood's top screenwriting instructors to town for one busy day.
By PHOENIX SCREENWRITERS ASSOCIATION
Date and time
Saturday, April 22 · 8:30am - 4:30pm MST
Location
Marston Exploration Theater 781 South Terrace Road Tempe, AZ 85281
Refund Policy
Contact the organizer to request a refund.
Eventbrite's fee is nonrefundable.
About this event
Join Phoenix Screenwriters Association for our first ever screenwriters conference. This all-day event is an opportunity for you to network with fellow members, participate workshops with industry professionals, and attend a film screening all for the low price of $79! (Early bird pricing is $69 for nonmembers, $59 for members, and $49 for college students.) What's more, morning buzz coffee and pastries and a box lunch will be provided at no additional cost! The Phoenix Screenwriters Conference features story guru Karl Iglesias, and script consultant Pilar Alexander and screenwriters Bob Saenz and Christopher Lamont .
Karl Iglesias
Psychology for Writers
Professional writers know that a great story is about conflict between characters, and how they transform for the better (or worse). And when it comes to characters, it's all about psychology, which revolves around understanding how humans think, feel, and and why they behave as they do. This seminar will explore the truth about human nature and provide participants the psychological tools and systems to help them understand the human psyche, especially as it relates to human behavior, emotions, personality, relationships, and human dysfunction.
Topics will include:
- Human nature, Archetypes and Personality Systems - Using psychological theories & therapies to develop character backstories - Human Desires and Motivations- Mental and Personality Disorders- Core Emotional Wounds & Defense Mechanisms- The Psychology of Relationships
After attending, participants will understand what makes humans tick and be able to create multi-layered characters and compelling stories that resonate with readers.
Pilar Alessandra
Conquering The Rewrite
You know your script has to be rewritten. You know it has to be original, active, polished and poignant before it goes into industry hands. But, where do you start? Using actionable writing tools taken from her popular books and classes, script coach Pilar Alessandra will help you create strong set-pieces, find unique approaches to character, breathe new life into dialogue and give a "voice" to your writing.
Bob Saenz :
Two break-out sessions (morning and afternoon)
1. Screenwriting for Cable Networks
Every network, no matter if it's broadcast or cable, has a brand. Sets of rules that govern what they will accept and produce from writers. These rules can also affect the re-write process. We'll discuss and lay out some of these rules, how to deal with them, and talk about executive notes, producer notes, director notes, and actor notes and the writer works through working for a brand like Hallmark or Lifetime or any of the other cable network outlets.
2. After You Write Your Screenplay
You've finished your screenplay after months of hard work, now the harder work starts as you realize you now have get notes to rewrite so you can make sure it's ready to be seen, you have to market yourself, and you have to try and get your script seen by managers and producers. There are no shortcuts for these things unfortunately, but there are a lot of things you can do to streamline the process.
Chris LaMont:
Two break-out sessions (morning and afternoon)
1. Top Ten Screenwriting Mistakes
How do you learn to be a better screenwriter? By screwing up over-and-over again, learning about your mistakes, and screwing up again. But hopefully a little less each time you keep writing. So let's cut out the middle-part and cut straight to building the best screenplay you can. Award-winning WGA screenwriter Chris LaMont walks you through the nuts-and-bolts of feature-length screenwriting and how to avoid the mistakes to bring your writing to a professional quality that will open the door for success.
2. Business Screenwriting 101
The writing part is easy - the tough part is becoming a professional and actually getting paid. Options, purchases, and hopefully you'll get your work produced. Are screenwriting contests worth it? What about getting a manager? Or an agent? What about the WGA? Award-winning WGA screenwriter Chris LaMont walks you through the ins-and-outs of the challenging business side of feature screenwriting.
Bill True:
The Martini Before the Martini!
You've just experienced a mind-blowing day of screenwriting magic—the learning from amazing professionals is still swirling in your head!
But there's a question nagging at the edge of your consciousness: What next?
How do you take all the pearls of wisdom you gathered today and put them to real, tangible use tomorrow?
Join screenwriter and professor Bill True for this interactive conference recap and Q&A to contextualize the learning from the panels and workshops, and identify specific actions you can take in the coming days to put the awesome information you received about the craft and business to work for you.
After that, join Bill and other conference participants for the real martini…a post-conference happy hour! Information about the happy hour coming soon.
Karl Iglesias is an internationally-renowned author, lecturer, script doctor and consultant, specializing in the reader's emotional response to the written page. He is the author of the best-selling Writing For Emotional Impact and The 101 Habits of Highly Successful Screenwriters, and a contributor to Now Write! Screenwriting and Cut to the Chase. He has presented seminars at writing conferences and film festivals worldwide, and has consulted on story for film studios and Fortune 500 companies. He currently teaches at UCLA Extension's Writer's Program, where he received the Outstanding Instructor Award in Screenwriting, and he can be reached through his website at karliglesias.com.
Pilar Alessandra is the director of the instructional writing program On The Page,® host of the On the Page Podcast and a highly sought-after speaker and script consultant who's trained writers at Lena Waithe's Hillman Grad Mentorship Program, Disney Animation, ABC, DreamWorks Animation and currently trains the fellowship recipients at NBCUniversal and CBS. She is also the author of The Coffee Break Screenwriter and The Coffee Break Screenwriter Breaks the Rules. Pilar's greatest accomplishment is the achievement of her students, many of whom gained success on series such as House of the Dragon, Homeland, Dear White People, Grey's Anatomy, Silicon Valley, and The Chi and have sold feature films and pitches to Netflix, Sony, Warner Bros. and other major studios. For more information about Pilar, her classes, coaching, book and podcast, go to www.onthepage.tv
Bob Saenz is a screenwriter, author, and actor living in Nashville Tennessee, with 19 produced films. His film works include "Extracurricular Activities", "Church People", "Help for the Holidays", "Rescuing Madison", "The Right Girl", "The Christmas Yule Blog", the award winning "The Farmer and the Belle", and "A Christmas Star". He regularly does rewrites, adaptations, and polishes on film and TV projects for Producers and Production Companies. He speaks and teaches at Film Festivals and Writer's Conferences across the country and is also the author of the popular screenwriting book, That's Not the Way It Works: a non-nonsense guide to the craft and business of screenwriting. Acting roles: six seasons on "Nash Bridges", Francis Ford Coppola's "Jack", David Fincher's "Zodiac", and "Unleashed", among dozens of others.
Chris LaMont is a multi-hyphenate in the film industry. He's a Professor of Screenwriting at ASU, the Founder of the Phoenix Film Festival, and a member of the Writer's Guild. For the last twelve years, he has been writing with fellow ASU Alum Joe Russo, and have had five films produced in the last three-and-a-half years, including the soon-to-be released Netflix supernatural horror film "The Inheritance".
Bill True's debut feature, Runaway, was hailed by critics as "Brilliant" and "Hitchcockian" as it premiered to universal accolades at Tribeca and Toronto. Bill also took the top prize at the Austin Film Festival for his work on Runaway, which was subsequently released by eOne Films. He has since developed feature and television projects with The Film Collective, NBA Entertainment, Warner Horizon Television, Veritas Entertainment, More/Medavoy Productions, eOne Television, and more. He is currently in development at Echo Lake Entertainment on his original drama series, Way Beyond. He also working with Rom Com Pictures to produce his original drama series, Hope Springs.
In addition to his work in Hollywood, Bill is Faculty-in-Residence for Dramatic Writing and Department Chair at the esteemed Scottsdale School of Film+Theatre.
This project is partially funded by a City of Tempe - Community Arts Grant.
This project is supported in part by the Arizona Commission on the Arts which receives support from the State of Arizona and the National Endowment for the Arts.
This conference is sponsored in part by Scottsdale Community College and the Scottsdale School of Fim+Theatre .
This conference is sponsored in part by Arizona State University and The Sidney Poittier New American Film School
About the organizer
Phoenix Screenwriters Association Inc., (PSA) is a not-for-profit 501(c)3 organization, providing assistance and guidance to local screenwriters and filmmakers through educational and networking opportunities with the goal of supporting their careers into the film business through their development of industry-standard screenplays and films.  We offer a range of services, including classroom instruction, seminars, workshops as well as networking opportunities with proven industry leaders.  PSA provides its members a professional organization through which motivated writers, filmmakers and others in the film industry have a clearer ability to advance their careers.