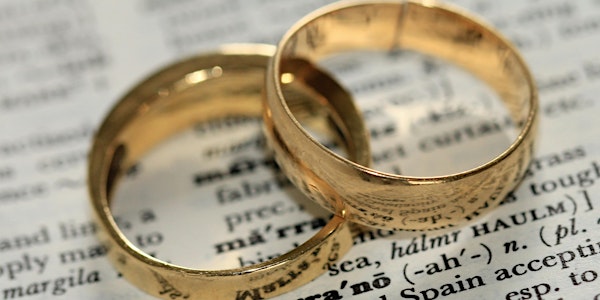 PS - Before You Say "I Do" - Military Marriage Premarital Seminar
Sales Have Ended
Registrations are closed
Congratulation! We look forward to seeing you!
Sales Have Ended
Registrations are closed
Congratulation! We look forward to seeing you!
Military Pre/Marital Seminar
About this event
                                                                               ***ATTENTION***
Due to COVID-19, we will only be taking 7 COUPLES (14 Individuals max) .
All Attendees must abide by MCAS Miramar social distancing guidelines to include the wear of a face mask and six feet social distancing while in the seminar.
*IF you are feeling ill, PLEASE DO NOT come to the seminar. Please give us a call and we will reschedule you. Your health and the safety of others is important to us!
P.S. - Before/After You Say I Do
Help to make sure you and your fiancé are ready to tie the knot!  This highly informative program is designed to help military service members and their fiancé prepare for marriage life in the military.  You and your fiancé will learn vital information from subject matter experts about:
Realistic vs. Unrealistic Expectations in Marriage in the Military
Financial Counseling and Resources
Family Advocacy Program
Marine Family Life Counselor (MFLC)
Financial Counselor Resources
Healthy Communication
Navy Chaplain Resources
… and more!
Marines & Sailors are HIGHLY encouraged to attend this seminar with their fiancé or spouse.  Inquire about command incentives to attend this seminar with your loved one.
WHO:   Active Duty and DOD civilians who have access to MCAS Miramar. Registration is required.
TIME:  0800-1600
LOCATION:  Team Building Training Center BLDG# 2273 (2273 Elrod Ave, San Diego, CA 92126) onboard MCAS Miramar. It is in the same building as the Navy and Marine Corps Relief Society (The building between the MCAS Miramar Post Office and Behavioral Wellness Center). The space used is located on the left side of the building.
ATTIRE: DO NOT WEAR your uniform!  Appropriate civilian attire only. **FACE MASK ON AT ALL TIMES FOR ATTENDEES AND SIX FEET SOCIAL DISTANCING ENFORED**
ASSIGNED DUTY:   Attending the seminar is considered your official PLACE OF DUTY.  
If you do not work day-shift, your supervisor will be expected to allow you to NOT work at least one night adjacent to this seminar.
                 Upon completion you will receive a certificate to verify your attendance for your command.
COMMAND REQUIREMENT: Marines & Sailors attached to MAG-11 and squadrons are required to attend prior to getting married.  Many local commands have similar requirements. Check with your command!
A 72 hour liberty is authorized for all MAG-11 Marines/Sailors when BOTH partners attend.
For more information or questions?  Please contact the MAG-11 Chaplain's Office at 858-307-4443/9823.
Organizer of PS - Before You Say "I Do" - Military Marriage Premarital Seminar