Description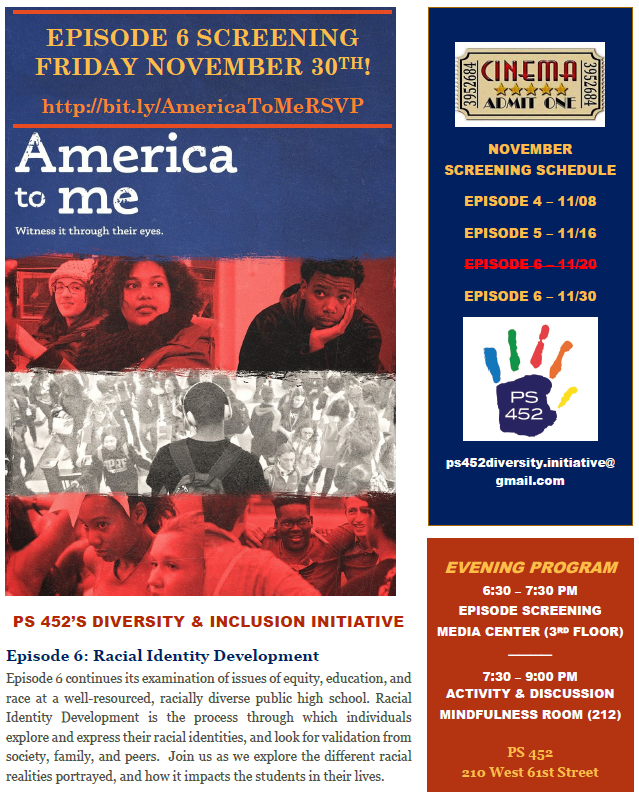 ---
The Diversity & Inclusion Initiative at PS 452 is a group of parents, administration & staff that have formed to create opportunities for thoughtful discussion of these and other related topics. Please join us on
Friday, November 30th from 6:30 pm - 9:00 pm at
PS 452's Media Center (3rd Floor) & Mindfulness Room (212) for
Episode 6: Racial Identity Development
Episode 6 of America to Me continues its examination of issues of equity, education, and race at a well-resourced, racially diverse public high school. Racial Identity Development is the process through which individuals explore and express their racial identities, and look for validation from society, family, and peers. Join us as we explore the different racial realities portrayed, and how it impacts the students in their lives.
---
Previous Episodes
Episode 5 - For this episode, our conversation was focused on expectations and privilege. We continued to examine the various student-teacher interactions, particularly the scene where Jada presents her film on colorism, titled The Color Complex.
Episode 4 - We centered our conversation around agency, and the student-teacher interaction between black students Jada & Charles, and Golden-Apple winning physics teacher Aaron Podolner.
Episode 3 - We were excited to welcome Deputy Chancellors Hydra Mendoza and LaShawn Robinson on November 2nd. Their participation in the discussion gave great insight to the administrative viewpoint of the episode.
Episode 2 - Education historian Dr. Nick Juravich of the New York Historical Society joined us on October 25th. He presented on policies that helped create de-facto segregation in New York City.

Episode 1 - We kicked off our screening of Steve James' 10-episode documentary series America to Me, named after Langston Hughes' Let America Be America Again.

O, yes,
I say it plain,
America never was America to me,
And yet I swear this oath —
America will be!
---
Please reach out to ps452diversity.initiative@gmail.com for more information, to make suggestions, or just share your thoughts!