Description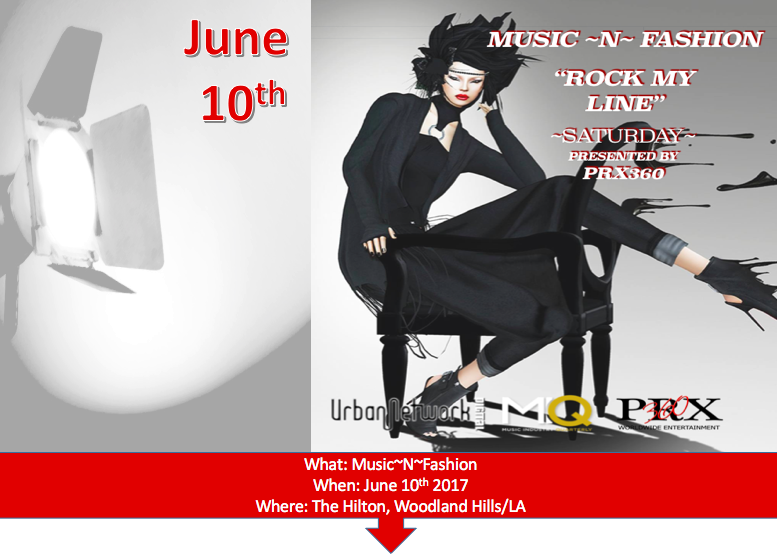 PRX360 presents Music~N~Fashion "Rock My Line red carpet event. For one evening, June 10th, @ 7:30pm, Dancers will hype up the stage; Music Artists will illuminate your soul and Designer brands will elevate the fashion curve with their star collections. Rock My Line designers will be presented to fans, followers, music and fashion tastemakers and lovers of the entertainment industry as a whole.
Hosted by LiL Will signed to Drumma Boys Label, BET Experience Host, Love & Hip Hop, GeorgiaReign Grammy nominated Singer/Songwriter Signed to Neyo's Label Compound & Ruth Patterson Vice President of PRX360. will take the stage as Rock My Line's hosts for the evening. Come check out V. Bozeman from Fox musical drama series Empire as she rocks the stage, along with many more superstar performances while models are showcasing the new fashion lines by break out designerslike Golden Commodity and many more. .
In 2016, PRX360's Music~N~Fashion "Rock My Line" stage showcased 20 artist and more than 50 models donning new fashion lines by breakout designers, Fashion Stylist Quiana Monae (QMonae), "House of AJ" reality star A. J. Johnson (A.J.'s 12 Dress), acclaimed actress Vivica Fox (Poetic Justice Jeans), singing artist Christina Milian (We Are Pop Culture) veteran record executive Leo Rodgers(Sagwear), and a string of other young & seasoned designers.
For Celebrity VIP Access & Press Passes Please Email: sjfilmgirl@gmail.com
PRX360 Worldwide, Entertainment & Consulting Agency:
http://www.prx360.com