PRS LOCKDOWN: Lizzie Borden House

Friday, November 4, 2011 at 7:00 PM

-

Sunday, November 6, 2011 at 11:30 AM (EDT)

Fall River, MA
Event Details
Lizzie Borden House Lockdown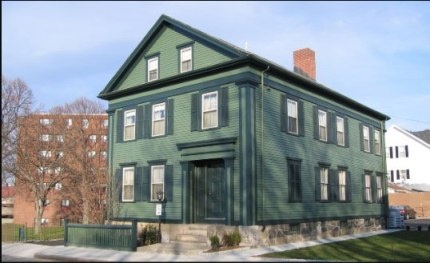 Ticket Costs:
$300 per adult
Breakfast & Lodging Included
Contact:
events@parafieldtrip.com
Now you will have the opportunity to visit the 119 year old crime scene where the ghastly murders of Andrew and Abby Borden took place. See if the spirits that remain feel if justice was served or question Lizzie herself about her role in that fateful night in 1892. Sleep in one of the rooms of this former private residence and receive an experience like no other. Now it is time to join the Paranormal Research Society as they open a case file on the infamous Lizzie Borden House.
Event Summary:
You and 14 other guests will check in to the infamous Lizzie Borden House in Fall River, MA. The mansion will be locked down, and together with members of PRS, you will have the entire night to investigate the property. Start off the night with a meet-and-greet, followed by hands-on workshops and discussions. As the night approaches, all participants will help set up for the investigation, by going through historical documents, setting up technical surveillance and more. The investigation kicks off with a séance, followed by a Dead Time investigation. Afterward, the experience continues as you check in to your haunted room to spend the night. In the morning, everyone will gather once more over breakfast (included) to share their experiences and say their goodbyes.
Dining:
Breakfast: (included) Eggs, sausage, breakfast, potatoes, johnny cake, oatmeal, coffee, juice
Dinner:  Not included
The Lizze Borden House B&B and Museum Staff is happy to accommodate any attendees with food allergies or specific dietary needs, however, they ask to be notified ahead of time so they may be able to prepare for your requirements. Please notify PRS event staff upon purchase of your ticket if you have any of these criteria: events@parafieldtrip.com
Lodging:
One of 7 rooms from this infamous crime scene will be available to you. The Lizzie Borden House B&B and Museum has 7 rooms that will be available to you. The Lizzie Borden Room (Accused), the Emma Borden Room (Sister), the John V. Morse Room (Maternal Uncle), Andrew Borden Room (Father & Victim), Abby Borden Room (Step-Mother & Victim), Bridget "Maggie" Sullivan Room (Maid, 1st Response Witness), or the Hosea Knowlton Room (Prosecuting Attorney)
Due to availability of the accommodation PRS will provide room assignments for the attendees. Room assignments will be made on the accommodation of 3 people per room. If you have a specific request for room assignment please include it with any further questions or requests to PRS staff ASAP. Also, shared bathroom accommodation is provided by the B&B and all attendees and rooms will be expected to share those accommodations. If you wish to book an entire room for yourself then you will be responsible for covering the additional ticket costs for that room: events@parafieldtrip.com
Schedule: (pending)

5:00 PM - Check In/Meet and Greet
6:00 PM - Dinner with Haunted Stories
7:30 PM - Workshop 1
8:30 PM - Workshop 2
9:30 PM - Set Up for Investigation
11:00 PM - Investigation
2:00 AM - End of Assisted Investigation
8:00 AM - Breakfast and Discussion
9:45 AM - Tech Tear Down
10:30 AM - Checkout & Good-byes
When & Where


Lizzie Borden House



Fall River

,

MA




Friday, November 4, 2011 at 7:00 PM

-

Sunday, November 6, 2011 at 11:30 AM (EDT)
Add to my calendar
Organizer
"PARANORMAL: THE EXPERIENCE" 2014 CANADA TOUR
TOUR SCHEDULE
OTTAWA
April 3rd / April 4th
TORONTO
April 5th / April 6th 
VANCOUVER
April 8th
CALGARY
April 10th / April 11th
EDMONTON
April 12 / April 13th
WINNIPEG
April 15th
HALIFAX
April 17th