Who's Going
Loading your connections...
Event Details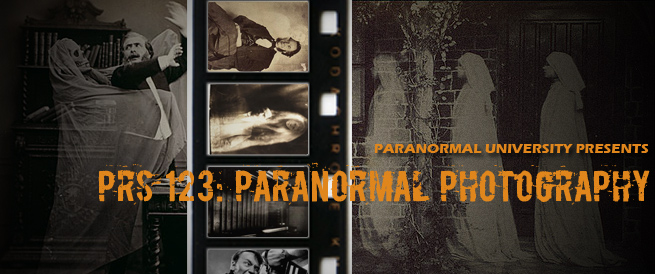 A snapshot of the undiscovered.
Summary:
Sergey Poberezhny will give a 5-course look at paranormal photography. The topic of photographing the unknown has long been used by researchers and investigators as a form of viable proof of the afterlife. Decades throughout history the paranormal has been riddled of written word and oratory tales; from myths to testimonies, it was all left to the imagery of the mind to recreate the experience. Photography produced a new way to look at the paranormal. As a visual aid, it took fairy tales and brought them into reality.
It first started as a form of psychic phenomenon when it allowed people to get a portrait session with a friend or family member who had long passed away. As technology progressed it became an important tool for researchers to study mediums who claimed to levitate, produce ectoplasm, and channel spirits with their bodies. Soon researchers were able to conduct extensive sessions on individuals who were able to transmit their thoughts onto film. And now, in the digital world, everyone has some sort of camera on hand. Citizens have become the researchers, the investigators and the explorers.
This course will outline a historical to modern day journey on how photography has shaped and conformed the paranormal. Individuals will also learn on how to conduct and analyze potential paranormal pictures. Though a picture is worth a thousand words, sometimes it's not always the truth.
Registration is open starting Friday, April 12th, 2013 at 5:00pm EST.
Class Times:
Saturday: May 25th, June 1st, 
Wednesday: May 29th. June 5th, June 15th
Cost: $50.00 per person
IMPORTANT LINKS
Free Webinar on Top 10 Paranormal Photographs by Sergey Poberezhny and Ryan Buell
A free webinar is availble to the public, sponsored for Paranormal Photography Week by PRS.
register here: http://prs123a.eventbrite.com/
5 Course Webinar on Paranormal Photography by Sergey Poberezhny
If you are interested in the actual 5-course webinar on paranormal photography follow the link below to purchase your webinar pass. Classes start on May 18th.
purchase pass: http://prs123.eventbrite.com/
For more information of the webinar and to downlowd the schedule and the syllabus, follow the link below. 
more information: http://paranormalresearchsociety.org/blog/prs-123-paranormal-photography/
Information on Paranormal Photography Week: What is Paranormal Photography Week? We plan to dedicate Saturday, April 13th – Friday, April 19th 2013 to Paranormal Photography, hosted by Sergey Poberezhny and Ryan Buell.  We'll be focusing on all-things evidence related, highlighting some of the best evidence captured in recent times, to privately submitted evidence as well as how-to's on documenting the paranormal!  Like with everything in PRS, we look forward to having a great time celebrating a part of the field that is integral to the success of paranormal investigation!  After all, we can investigate all we want to, but what makes our investigation that much sweeter is that piece of evidence that we can take with us as a badge of honor! Get more information and find out the schedule by clicking on the link below.
http://paranormalresearchsociety.org/latestnews/its-paranormal-photography-week-april-13-19th-2013/
Share your Paranormal Photographs: Do you have a piece of photographic evidence that you feel is paranormal and you want PRS to review?  Now's your chance to get answers and help educate the world!  During April 13-19th, 2013, PRS will be running "Paranormal Photography Week," and during this time, PRS plans to promote, educate and discuss all-things photographic when it comes to the world of the paranormal.  And this is your chance to help!
http://paranormalresearchsociety.org/submit-your-paranormal-photographic-evidence-part-of-paranormal-photograph-week-april-13-19th-2013/