Proxy War is available on Kickstarter September 6th to November 5th! Get the ultimate strategy game of cooperation & competition.
About this event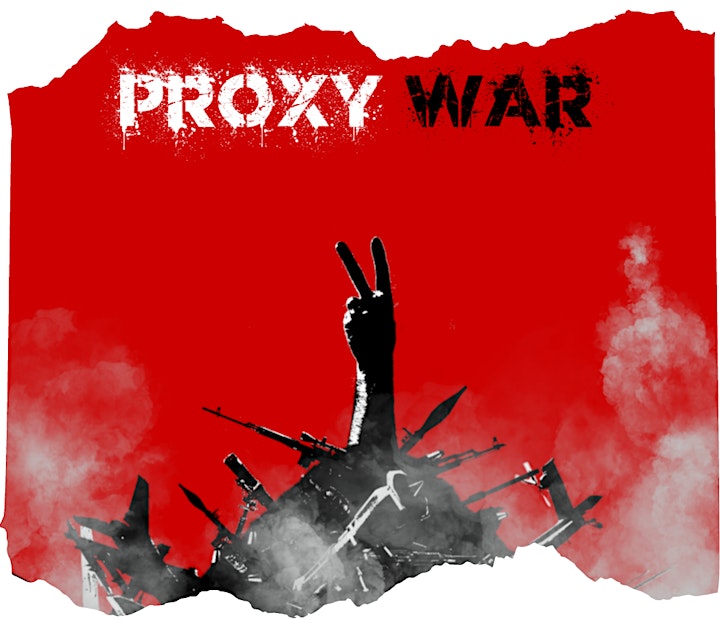 The Kickstarter Campaign is Live!
We have launched our Kickstarter campaign for Proxy War! This campaign event will run from Sepetmber 6th to November 5th. Join us in making this strategy board game a reality!
Check out the campaign
What is Proxy War?
Proxy War takes place in a war-torn country where the government and rebels fight while foreign powers try exploit the conflict to beat their rivals.
Proxy War is a medium weight competitive political strategy wargame where different players have different paths to victory. This game uses territory building, simultaneous action selection, negotiation, bluffing, dice rolls, resource management & trading.
Proxy War features hexagonal shaped tiles that contain resources that can be used to build or traded for equipment. Equipment gives players new actions or dice modifiers during battle rolls.
Rebel and Government players compete to claim these tiles with armies and be the last player on the board.
Foreign Powers compete with each other to be the first to gain 10 Victory Points.
Each match has 10 turns with each turn having 3 phases: Collection, Negotiation, & Action
Players switch between competing and cooperating depending on their immediate needs in a dynamic open-ended negotiation system where keeping your promises may not be the best option and betraying allies has no consequences besides how other players respond.
What is Tabletopia?
Tabletopia is a free online board game simulator where you can play-test new games. We have put Proxy War on Tabletopia so you can play it with your friends and family, get hyped about it, and consider supporting us on our crowdfunding campaign coming up in September. If you wanna start trying out Proxy War on your own, great!
Want More Info?
Become a Proxy Warrior
Join our email list to get updates about Proxy War. Anyone on our email list will be put into a raffle to win a FREE copy of Proxy War once our Kickstarter campaign is finished!
We are also offering a VIP guaranteed 50% discount of Proxy War to anyone who pledges $1 on our website during this pre-launch phase. VIPs will also get their own exclusive raffle to win a copy of Proxy War.
Follow Us on Social Media
We are on Facebook!
We are on Instagram!
We are on Discord!