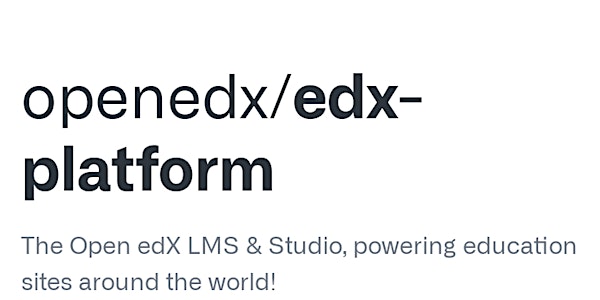 Providing Technical & Medical Training with the Open edX Platform
The Meetup will showcase how to effectively deliver technical & medical training via Open edX & an update on the Modular Learning Project
About this event
The next virtual Open edX meetup will feature three presentations. The first presentation will be conducted by Rohit Ramanathan, Online Course Developer at MathWorks.
MathWorks has supported edX and the Open edX Project for nine years and became an edX Partner in 2021 to offer courses on edx.org. MathWorks provides comprehensive support for MOOCs and professional courses for instructors interested in integrating MATLAB into their courses.
The presentation will be centered around how MathWorks support programs help instructors adapt content from on-campus courses for online delivery using MATLAB®, a programming and computation platform used by millions of scientists and engineers worldwide. MATLAB is a great choice for technical courses since it offers low code solutions tailored for a given domain, an extensive library of apps for testing and understanding a problem before committing to coding it, excellent documentation with many domain-specific examples to follow, and web-based versions of tools that are instantly accessible and run seamlessly without installation or configuration.
The second presentation will be conducted by Madhup Verma, CEO of VTeamLabs.
VTeamLabs is an engineering and implementation/deployment partner with edX.org / Microsoft to develop Open edX on Azure (OXA) platform. Their services include Course Management Systems and Learning Management Systems, custom configurations, development, and deployment of eLearning platforms on Azure, AWS, open stack or private cloud.
Madhup Verma will present their recently developed FETP Platform, funded by the CDC, WHO, ICMR - NIE, SafetyNet, and VHS, which provides public health and global health security services through a mentoring & learn-by-doing approach to enhance the effectiveness of the medical workforce and systems required to perform such services.
The FETP Platform covers training for Epidemiologists, General Physicians, Clinical Technicians, Research Scientists, and Nurses. This platform is a fully integrated solution with MS Teams for enabling synchronous communication & interaction between learners and the teaching staff, which include entities under the Ministry of Health & Family Welfare in India.
Finally, the last presentation will be conducted by Jenna Makowski, Product Manager at tCRIL, covering the Open edX Platform. Jenna will provide an update on the Open edX Modular Learning initiative to enable micro-learning. Possible learner and author improvements will include flexible content reuse, adaptive learning/dynamic content, template courses without limitations of CCX, flexible course experiences, and simpler APIs.
We look forward to your participation and obtaining your feedback!