Providing Hope and Healing to Those Coping with Trauma and Loss
Description
Live webinar
Trauma comes to all of us but we can all use tools of self-care and self-awareness to heal our trauma and become more whole than we've ever been. In this webinar, James S. Gordon, MD, a Harvard-educated psychiatrist and author of the new book The Transformation: Discovering Wholeness and Healing After Trauma will help bereavement professionals and clinicians embrace a hopeful and life-affirming evidence-based approach to healing psychological trauma.
Participants will learn how to incorporate techniques of self-care into their work as well as into their own lives. Dr. Gordon will also guide them in creating comprehensive programs that integrate self-care and group support with the therapeutic approaches they are already offering.
---
Presenter
James Gordon, MD
Founder and Executive Director, The Center for Mind-Body Medicine
---
Event Details
Registration is FREE and open to the public. Continuing education (1.5 hours) is available for a variety of boards through the TAPS Institute for Hope and Healing® for $25 per certificate.
Click here for program information and board approvals list. Instructions for obtaining your certificate will be provided at the end of the webinar.
---
ABOUT THE PRESENTER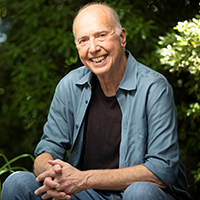 James Gordon, MD is a world-renowned expert on trauma and author of The Transformation: Discovering Wholeness and Healing After Trauma. He is the founder and executive director of The Center for Mind-Body Medicine (CMBM) in Washington, D.C., where he has created and implemented what may well be the world's largest and most effective program for healing population-wide trauma. He and his 130 international faculty have brought this program to populations as diverse as refugees from wars in the Balkans, the Middle East, and Africa; New York City firefighters and U.S. military personnel and veterans and their families; student/ parent/teacher school shooting survivors; and Native American children and their families—as well as stressed out professionals, stay-at-home mothers, inner-city children, White House officials, health professionals and medical students, and people struggling with emotional and physical illnesses.
---
How do I view the webinar?
Viewing instructions will be emailed to you several times in the days leading up to the webinar.
How can I contact the organizer with questions?
Email Institute@taps.org or call 800-959-8277.
Presented by Boeing