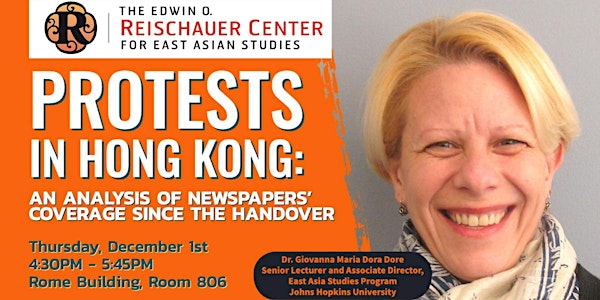 Protests in Hong Kong: Newspapers' Coverage Since the Handover
How has press freedom changed in Hong Kong, in the post-handover years? What are the greater implications for protest culture in Hong Kong?
When and where
Location
Room 806, Rome Building, Johns Hopkins University - SAIS Massachusetts Avenue Washington, DC 20036
About this event
Event Description:
Protests constitute an important means in contemporary societies through which citizens voice their concerns and exercise their right to free speech. Protests' success, however, is predicated on whether and how the media, and especially newspapers, portray them. Even more so in Hong Kong, where protest participation has long been an undercurrent in the city's political culture, even though large-scale demonstrations have become more prominent in the post-handover era. A newly curated collection of news articles, covering protests that took place between 1998 and 2020, paired with natural language processing techniques revealed the rhetorical tools that newspapers used to portray and characterize protests in Hong Kong. This, in turn, helps us understand how journalistic practices, and ultimately press freedom, has changed in Hong Kong in the post-handover years.
Biography:
Giovanna Maria Dora Dore is a Political Economist with nearly 20 years of experience in international development and comparative politics, with a focus on public policy and institutions in East Asian emerging markets. Between 1998 and 2008, Dr. Dore worked at the World Bank in various capacities, including Special Assistant to the President. Her work focused on the East Asia and Pacific Region and a broad range of topics related to growth and sustainable development, public expenditure and revenue management, and decentralization. Dr. Dore designed and managed analytical research programs, technical assistance initiatives, development policy lending, and traditional investment lending for China, Cambodia, Indonesia, Mongolia, the Philippines, Thailand, and Vietnam. Earlier on, between 1990 and 1995, she worked on migration and refugees' issues with a focus on Pakistan, Middle Eastern, and European countries thanks to her association with the United Nations.
Dr. Dore received her PhD from the Johns Hopkins University - SAIS in 2012, her MA in International Relations and International Economics from the Johns Hopkins University – SAIS in 1998, and her BA-MSc in Contemporary Philosophy, Politics, and Economics (double first class honors) from the Catholic University of Milan in 1995.