Description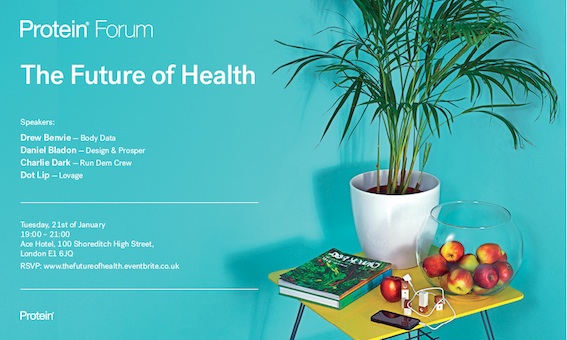 We are pleased to announce the The Future Of Health Forum on January 21st 2014 at Ace Hotel London Shoreditch. The forum will run from 7 - 9pm.
Exploring everything from quant self to the new health apps to convivial running clubs, our speakers are:
Drew Benvie - Body Data (bodydata.co.uk)
Daniel Bladon - Design & Prosper (http://www.designandprosper.com)
Charlie Dark - Run Dem Crew (http://www.rundemcrew.com/)
Dot Lip - Lovage (https://twitter.com/wearelovage)
After the forum, join us for the free Protein Journal issue launch, featuring exclusive green cocktails made by the hotel's acclaimed juice bar Lovage. With a host of great DJs, a dose of healthy living and knowledge, we're expecting it to be an awesome night.
Free guestlist here: https://www.facebook.com/events/179249038949243/?ref=ts&fref=ts