Description
Protectors of Animals and Fat Orange Cat Brew Co. invite you to join us at the Fat Cat Brew Co. for a fun evening of beer, food, and music with proceeds to support POA's mission to rescue and rehome abused and abandoned dogs and cats.
Each ticket includes complimentary Fat Orange Cat brews (3 beers are lined up!) or wine and fine Mexican fare provided by East Hampton's Loco Perro restaurant. Only 60 tickets will be sold!
Live music to be provided by Seat of Our Pants.
Location: 47 Tartia Road, East Hampton, CT 06424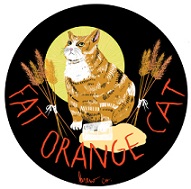 Seat of Our Pants: http://www.seatofourpants.org/SeatOfOurPants/Home.html