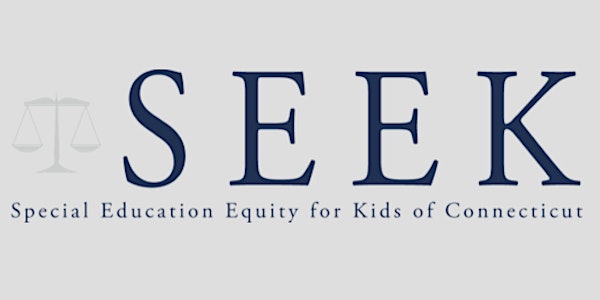 Protecting Your Kid's Rights! Advocacy Essentials in Special Education
Location
JCC of Greater New Haven
360 AMITY ROAD
Woodbridge, CT
Refund policy
Refunds up to 30 days before event
Description
Special education rights are under attack in Connecticut. Now more than ever parents and students need to understand their rights under special education law and the barriers they may face. Join leading Connecticut professionals (lawyers, advocates and evaluators) for a full-day conference on trending special education issues and must know-advocacy skills. Connecticut conference attendees will receive 1 year PARENT MEMBERSHIP to SEEK of CT, a leading statewide organization of parents and professionals that is dedicated to improving educational outcomes of children with disabilities.
8:00am Registration and light breakfast
9:00am Introduction by former Lieutenant Governor Kevin B. Sullivan
9:30am Keynote Speaker & Honorary Guest Attorney Howard Klebanoff
First Session (10:45am)
Using the Supreme Court Decision Endrew F. to Expect More for Your Child-- Attorney Jennifer Laviano
What is Effective Reading Instruction? -- Sheryl Knapp, Literacy Therapist
Special Education 101 -- Gerri Fleming, Advocate
Don't Tweet at an IEP Meeting -- Attorney Anne Treimanis
12:00pm General Session then Lunch
Second Session (1:30pm)
When is it Time for an Independent Evaluation? -- Attorney Andy Feinstein
Incorporating Applied Behavior Analysis in Your IEP -- Missy Olive, Ph.D., BCBA-D
Why You Must Read your Child's IEP and How to Do It -- Kathleen Casparino, Advocate
Reading Basics -- Kathleen Whitbread, Ph.D.
Third Session (3:00pm)
Knowing Your Way Around School Observations -- Attorney John Flanders
Making Friends -- Michael Weiss, Ph.D.
Getting What you Need in Your IEP -- Diane Willcutts, Advocate
Using Publicity to Make Change -- Advocates Julie Swanson and Kit Savage
4:15pm Wine and Cheese Reception with Presenters and Attendees!
Contact Attorney Jillian Griswold if you have questions or require accommodations for this conference at jgriswold@edlawct.com or 860-969-0700