Protect Your Transaction - gets you better Sellers and Buyers DO NOT MISS THIS

Tuesday, January 20, 2015 from 1:00 PM to 3:00 PM (MST)
Event Details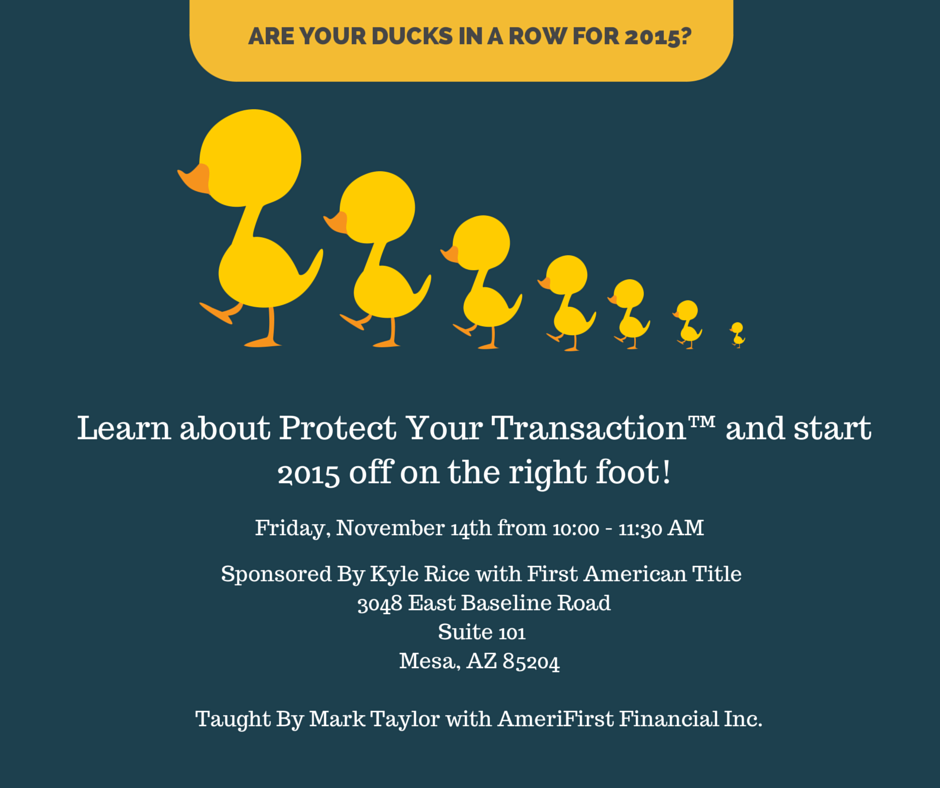 Do you want to get better Buyers and Sellers?
Don't let one more day pass by without getting the facts
about Protect Your Transaction™!
And why you have to have it!
Join us for this information fun packed meeting....
WATCH THIS:   To Find Out Why Agents LOVE Protect Your Transaction™ 
Don't believe us that you want to come to this class?
Michele Smylie Clark
November 6 at 1:02pm
Christina,
Just got a call for a $800-$900,000 listing because of your efforts, let Mark know…..THIS SHIT WORKS!! 
Thanks Michele Smylie Clark
Raiza Schwartz 
November 1 at 2:14pm 
Mark, PYT got me 3 listings thank you for coming on the listing appointment last Saturday and helping me with the Seller and beating out other agents he had interviewed, and most importantly helping me not get a comissionectomy.
You Rock, PYT Rocks never had a lender help me get listings before.
Please don't get your RE License stay a lender!
Raiza
Carrie Vidamo
October 15 at 7:34pm
OMG! Not only has Mark helped me increase my business 500% he introduces me to the BEST business partners. AGENTS you are crazy if you don't work with Mark. You are missing out!! I LOVE the Mark Taylor Team!!
Do you want to get Sellers to commit to you first time?
Want to get buyers off the fence and into a home now?
Got a Seller that just won't commit to you?
Get me involved - let me help, come to this class and let's get year-end pipelines full and closed and closed early!
Don't let one more day pass by without getting the facts, the system, and the results and as always at no cost to you - come have a fun exiting time learning about:
Protect Your Transaction™! 
See how a Lender gets you listings! See how a Lender gets you buyers. It sounds like a fantasy but I assure you its reality and the proof is shown in the class.
Be the best 2 hours you send this quarter - if it isn't then dinner is on us at your favorite restaurant.
Oh! and get ready to work after the class - you will leave with the coolest marketing gizmo you have ever seen - all the marketing has been done for you SO NO EXCUSES FOR NOT IMPLIMENTING THE MARKETING lol - the Gizmo is worth coming to the class and no it doesn't cost you a penny!
When & Where

First American Title Surprise
14239 West Bell Road,
Suite 115
surprise, AZ


Tuesday, January 20, 2015 from 1:00 PM to 3:00 PM (MST)
Add to my calendar