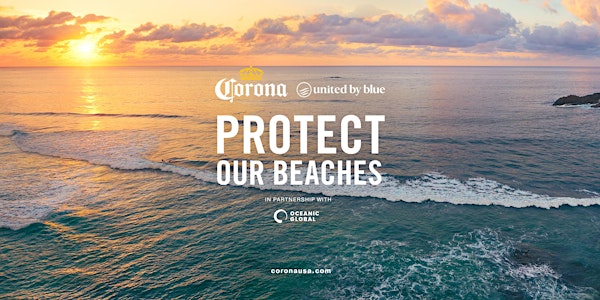 Protect Our Beaches - Asbury Park, NJ Cleanup
Please join United By Blue and Corona USA in their efforts to clean up ocean-bound plastic and beach litter!
When and where
Location
Sunset Lake Park 1300-1398 Bond Street Asbury Park, NJ 07712
About this event
Please join United By Blue, Corona USA, and local partners Sunset Lake Park Conservancy and Sunset Lake Commission, and Partnership for the Delaware Estuary for a fun-filled cleanup at Sunset Lake Park in Asbury Park. The focus of the day will be cleaning up litter, including microplastics and other trash, to stop it from entering nearby waterways or the Atlantic Ocean.
Volunteers will be led by staff to clean up trash and plastic from the park at Sunset Lake and Deal Lake areas with a meeting point on Bond Street between Fifth Avenue and Sunset Avenue.
All cleanup supplies will be provided, and prize giveaways and snacks will be provided as a thanks for your volunteerism. Water, sunscreen, bug spray, and sanitation supplies will also be provided - please bring a reusable water bottle to re-fill as needed. Please wear closed-toed shoes and clothes you don't mind getting a bit dirty.
Though no alcohol will be present onsite, due to sponsorship from Corona, this cleanup event is open to volunteers age 21+.
Important Details:
All participants must be 21+ years of age to volunteer.
United By Blue will adhere to all local regulations pertaining to the COVID-19 pandemic. This event is fully outdoors and efforts will be made to keep volunteer groups spread out. While a mask is not required for this event, masks are welcome. Our reusable cleanup supplies are industrially cleaned between uses, but we welcome volunteers to bring their own supplies if they feel more comfortable.
All United By Blue cleanups are ability inclusive. If you anticipate needing ability-related accommodations, please contact cleanup@unitedbyblue.com ahead of time.
All volunteers who register for the cleanup through this link will receive an email the week of the cleanup with details on parking, weather, what to bring, and all other necessary details.
This United By Blue beach cleanup event is sponsored by Corona USA, who believes a better tomorrow is made possible by the choices we make today. To transform that belief into action, Corona USA, in partnership with Oceanic Global, is on a mission to Protect Our Beaches by removing 1 million pounds of ocean-bound and waterline plastic waste from our rivers, lakes, and oceans. This United By Blue beach cleanup event, supported by Corona USA and Oceanic Global, helps to amplify their impact, generating positive, long-term effects through community engagement and education; putting the power to Protect Our Beaches in the hands of individuals and industries alike.