Prostate Cancer TODAY - a Conference for PATIENTS & CAREGIVERS
Actions and Detail Panel
Prostate Cancer TODAY - a Conference for PATIENTS & CAREGIVERS
Sat, March 4, 2017, 9:00 AM – 4:00 PM EST
Description
Empowerment in Everything!
This is a 1-day conference for patients and caregivers. Trying to understand your cancer and trying to work the medical system can be exhausting. The goal of this conference is to help - through small workshops with Q&A, larger sessions by national experts, and 20+ exhibit tables where patients and caregivers can find key resources regarding prostate cancer, testing, treatments, and insurance issues.

FREE LUNCH will be served, and
discounted hotel rooms are available (below).


The Current Agenda Includes:
Newly Diagnosed
Small Session with Q&A
Michael Katin, MD - 21st Century Oncology
Tracy Gapin, MD - 21st Century Oncology



Advanced Prostate Cancer
Small Session with Q&A
Eric Lubiner, MD - FL Cancer Specialists


Insurance Exceptions & Appeals
Large Session with Q&A
Peggy Mellody, RN
Retired Oncology Nurse and Director of Health Policy & Advocacy, Johnson & Johnson


Sexual Side Effects/ Penile Implants
Small Session with Q&A
Arnon Krongrad, MD
Founder and CEO of Surgeo and The Krongrad Institute

Sheldon Simmons, LPN
Prostate Cancer Surgery Patient, Implant Recipient, Founder and CEO of Pride Set Aside, Licensed Practical Nurse


Intimacy & Sexuality
Small Session with Q&A
Sam Smith, MD
Retired physician, PC surgery patient

Robin Smith - spouse
Lifestyle & Nutrition
Large Session with Q&A


What Other Tests Might Make Sense for Me?
Small Session with Q&A - Panel Discussion

Thomas Fabian, MD
Medical Directorof Advanced Imaging, Prostate MRI

Experts on New Pathology Tests, Experts on Imaging Tests (TBA)


Making the Medical System Work for You
Small Session with Q&A
Jan Manarite, EVP of Prostate Cancer International
Doug Braun, Pharmacist
Clinical Trial Nurse (TBA)
Nurse Practitioner (TBA)


Much more to come...

*agenda subject to change if there are unforeseen circumstances



Travel:
For those who are driving, the Charlotte Harbor ECC is about 10 minutes from I-75, and right off of US-41.
For those who are flying, the Charlotte Harbor ECC is about 15 minutes from PGD Airport (Allegiant and Fronteir Airlines), and 45 minutes from RSW International Airport in Fort Myers.
Discounted hotel rooms are available (March 3rd & 4th) at the PG Waterfront Inn for $139/night + tax.
To reserve - Call (941) 639-1165. Ask for Sue - mention "Prostate Cancer International Conference".
**NOTE - March 3rd and 4th are peak tourist season in Florida. Reserve your room early - reservations are FIRST COME, FIRST-SERVED until availability runs out.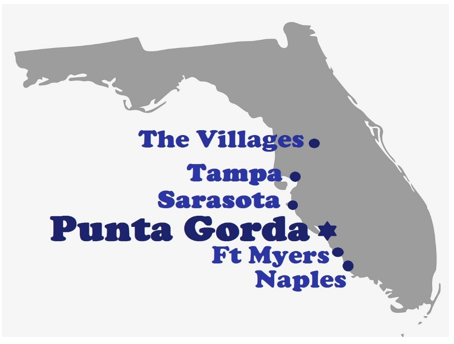 This conference is organized by local advocate, Jan Manarite and Prostate Cancer International, a national non-profit organization dedicated to educating and empowering patients.
Questions - Contact Jan Manarite at (239) 208-4400, or JManarite@hotmail.com
FAQs
Do I have to bring my printed ticket to the event?
Yes, that is preferred. But if an attendee forgets their printed ticket, that is no problem. We will have your name recorded on our registration list.
Is my $25.00 donation really tax-deductible? Where will I get my tax receipt?
Yes, all admission tickets are fully tax deductible as ProstateCancer International is a non-profit 501c3 organization (tax ID #26-3223978). You can find more information here. Your admission ticket will serve as your donation receipt. If you need more information than that, please email Jan Manarite at JManarite@hotmail.com
If I request free admission, do I still have to register?
Yes. We need to know how many people are attending to order the right amount of free lunches.
Can I just show up the day of the event without being registered?
Yes, we will welcome any and everyone who shows up. However, we cannot guarantee a free lunch, as they need to be ordered ahead of time.

How is parking?
There are 240 parking spaces at Charlotte Harbor ECC, including many handicap parking spaces. Parking is easy, and very close to the building.
Who do I ask about dietary concerns for lunch?
If you need Gluten-Free options or have other dietary concerns, call Jan at (239) 208-4400.

Where can I contact the organizer with any questions?
Contact Jan Manarite at (239) 208-4400 or JManarite@hotmail.com
Date and Time
Location
Charlotte Harbor Event and Conference Center
75 Taylor Street
Punta Gorda, FL 33950