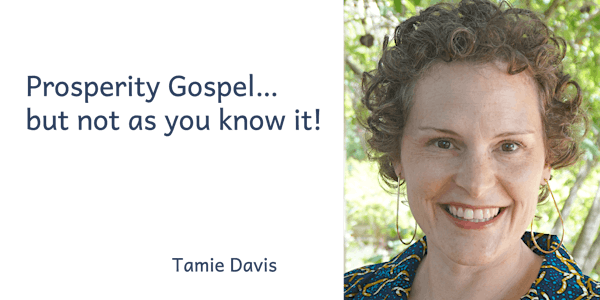 Prosperity Gospel… but not as you know it!
Prosperity gospel is notorious, but most of our knowledge comes from studying men. What do women say?
Date and time
Friday, April 21 · 12 - 2am PDT
About this event
"Prosperity gospel" is often associated with a stereotype of flamboyant male preachers who manipulate listeners with false promises of extravagant wealth or blame them for their poverty. Yet, these are not the only teachers of prosperity. Tamie Davis will share her research about the prosperity theology held by one group of Tanzanian women, and how it is different to the stereotype and might even be the antidote to it! She will invite us to learn from these women about who God is and how we can be at work in his world for our good and his glory.
Tamie Davis is from Adelaide, South Australia and has lived in Tanzania for the last decade as a Gospel Worker with CMS Australia and an Associate of Tanzania Fellowship of Evangelical Students. She came to Tanzania expecting to combat the prosperity gospel but encountered something that sounded kind of like it and kind of not and became intrigued enough to do a PhD on it! She used to blog a lot and now blogs a little at meetjesusatuni.com. Her twitter handle is @tamiesdavis
Join the Angelina Noble Centre learning community
If you would like to join in learning discussions prior to and after the conference, please apply to join the Angelina Noble Centre Facebook group or contact the event organiser (Dr Evelyn Hibbert) to ask about joining the ANC Signal group. Members of the learning groups read and discuss material relating to the topic before the conference to prepare for it.
Donations
The Angelina Noble Centre is an Australian Charity. All our activities are run by volunteers. Any income we receive is used for our minimal running costs and to provide research grants for ANC researchers. If you would like to contribute to the ANC we suggest a voluntary donation of A$20 for conference attendance using the donation information on our website home page.