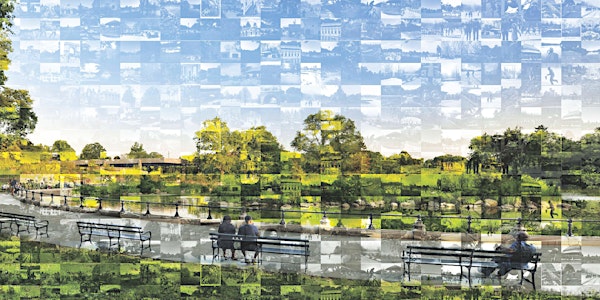 Prospect Park 150th Anniversary Opening Weekend
When and where
Location
Prospect Park Brooklyn, NY 11225
Description
Prospect Park 150th Anniversary Opening Weekend Celebration
On April 1 + 2, join Prospect Park Alliance to kick off the 150th anniversary celebration of Prospect Park, Brooklyn's Backyard, with a full weekend of special events and festivities. Enjoy an Opening Day Parade and Fair, an exhibition 1860s ballgame, running and walking tours, and the first Smorgasburg of the season. Please note that most events are rain or shine, but please check below for updates on event status.
Let us know if you are attending, and enter for a chance to win a Prospect Park Alliance Family Membership! RSVPs are not required.
Are you joining the fun? Share your photos with #prospectpark150!

Friday, March 31
Lola Star's Ice Disco, 7–10 pm
LeFrak Center at Lakeside
Due to inclement weather, the Lola Star Ice Disco has been canceled. Check back this summer for a full season of Lola Star at the LeFrak Center.
Saturday, April 1
Opening Day Parade, 10–11 am
7th Avenue + 2nd Street to Long Meadow Ballfields, Free
Join the Alliance and the Prospect Park Baseball Association for a baseball youth league parade to Prospect Park, where a ceremonial first pitch will be thrown to start the season.
Brooklyn Atlantics Exhibition Game, 11 am–2 pm
Long Meadow Ballfields, Free
Due to inclement weather, the exhibition game has been canceled, but the Brooklyn Atlantics, a historic baseball club, will participate in the Opening Weekend Fair with baseball memorabilia and to pose for photos.
Prospect Park Alliance Opening Day Fair, 11 am–3 pm
Prospect Park, Bartel-Pritchard Entrance, Free
Following the Opening Day Parade, join Prospect Park Alliance and community partners for family-friendly fun and refreshments.
Coffee Bark 150th Celebration, 7–9 am
Long Meadow near Upper Pool, Free
Bring your pup to the Park for treats and great company at FIDO in Prospect Park's first Coffee Bark of the spring, with free goodies for dogs and their owners, and a special 150th cake!
150th Anniversary Bird Watching Walk, 8–11 am
Parkside Entrance, Free
Join Brooklyn Bird Club to welcome the earliest migrants of the year and celebrate the 150th with special prizes. Please note this tour leaves promptly at 8 am, and participants are encouraged to bring their own binoculars. Rain or shine.
Prospect Park Running History Tour, 11 am–12 pm
Free, Register online
Join New York Road Runners and Prospect Park Alliance to experience the Park's history at a comfortable pace (10 min/mile) that will allow for plenty of photo ops and questions along the way.
Prospect Park Grill Out at Greenmarket, 10 am–1 pm
Grand Army Plaza, Free
Join GrowNYC and Prospect Park Alliance in celebrating the 150th anniversary of Prospect Park, with a grill out of meats and veggies sourced from Greenmarket farmers.
Weekend Volunteer Corps, 10 am–1 pm
Free, Register online or call (718) 287-3400
Celebrate the 150th by giving back to the Park! Help spruce up gardens, paint fences and benches, weed, spread mulch, and clean and maintain pathways.
Sunday, April 2

150th Anniversary Run, 9–10 am
Free, Register online
Join Prospect Park Alliance and the Prospect Park Track Club for a commemorative run through Park Slope! The route will spell out 150, in honor of the Park's sesquicentennial.
Smorgasburg, 11 am–6 pm
Breeze Hill
Celebrate the 150th with the first Smorgasburg of the season, with more than 100 local food and drink purveyors offering a range of cuisines from around the world. Also debuting at Smorgasburg Prospect Park is a special commemorative beer by Brooklyn Brewery, Long Meadow Gold, a crisp pale ale. A portion of sales will benefit Prospect Park Alliance.
Member Perk: Prospect Park Alliance members receive $1 off beer.
Our Streets, Our Stories: Prospect Park 150, 1–3 pm
Central Library Info Commons, Free
In celebration of Prospect Park's 150th Anniversary, Brooklyn Public Library and Prospect Park Alliance invite you to share your Prospect Park story, to be archived in the Brooklyn Collection.
Prospect Park Walking Tour, 3–5 pm
Register online
Celebrate 150 year of Prospect Park on this guided walking tour that examines the Park's many layers of history led by Turnstile Tours.
Member Perk: Prospect Park Alliance members receive a 25% discount on tickets. Already a member? Contact membership@prospectpark.org for more information.
Campfire Conversations: Stewardship, 7–8 pm
Lefferts Historic House, Free
Prospect Park Alliance and Brooklyn Public Library present a community conversation on the topic of stewardship and public space around an outdoor campfire, with refreshments, music and mulled wine.
All Weekend
Nature Exploration, 10 am–1 pm
Prospect Park Audubon Center, Free
Join Prospect Park Alliance for fun nature activities to welcome the start of spring, and also participate in our 150th anniversary species count for special prizes.
Spring Sprouts, 2–4 pm
Lefferts Historic House, $3 suggested donation
It's time for spring planting! Join Prospect Park Alliance to help plant our crop of flax and make a small pot out of newspaper, fill it with soil and plant vegetable seeds to take home.
Ice Skating Fun
LeFrak Center at Lakeside
Friday (disco) 7 pm–10 pm, Saturday, 10 am–9 pm; Sunday, 10 am–5:15 pm
Visit our website for skate admission and rentals info
Celebrate the Park's 150th, and the last days of ice skating for the season. All ages can enjoy a weekend of ice skating, including a complimentary pass to return for roller skating this spring.
Member Perk: Prospect Park Alliance members skate free all weekend. Already a member? Show your member ID at the ticket counter for free admission.
Carousel Rides, 12–5 pm
Prospect Park Carousel, $2 per ride; $9 for a book of 5 tickets
Celebrate with a first ride of the year on the Park's beloved 1912 carousel.
Member Perk: become an Alliance Family Supporter member to receive unlimited rides for a full year!
Prospect Park Zoo, 11 am–4 pm
Free for children with paid adult admission
Prospect Park Zoo is sharing in the Park's celebration with free admission for children, and special Park-centric fun.
For more information, maps and directions, visit our website.
Programs and prices are subject to change.
Community Partners