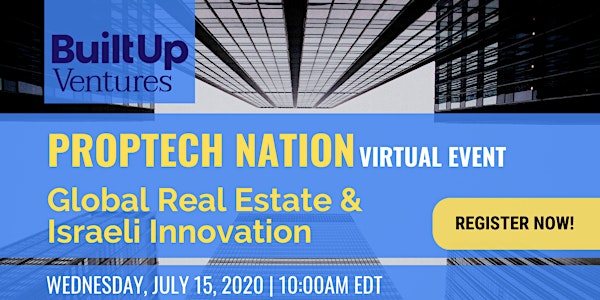 Proptech Nation- Global Real Estate & Israeli Innovation
We invite you to discover how Israeli proptech is helping rebuild the global real estate sector in a new COVID-19 reality.
About this event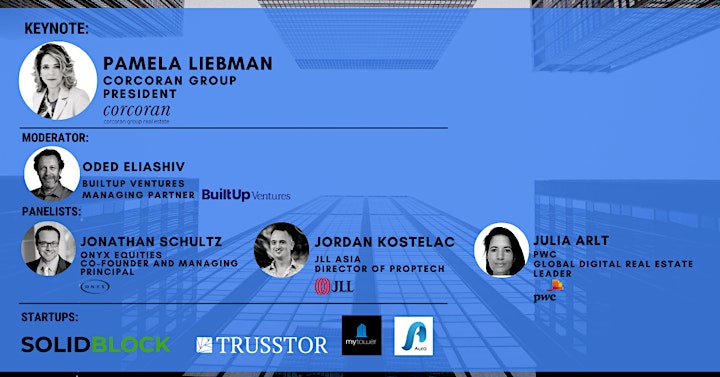 PropTech Nation is the first live virtual event to showcase Israel's PropTech ecosystem, and connect the country's top startups with leading real estate experts.
Without any doubt, this pandemic will change our world as we know it. Trends will shift. New markets will emerge. New approaches created. Existing industries reshaped, and the Real Estate market is no exception.

During this webinar our audience will learn how COVID-19 has impacted global trends in the Real Estate sector. What role innovative technologies are playing? What types of problems are they solving? And who are some of the most innovative startups solving these problems?
AGENDA
Host:

Noa Aharoni- Head of Cleantech & Smart Infrastructure , The Israel Export Institute

Opening Greetings:

Inon Elroy- Israel's economic attaché to the East Coast.

Keynote:

Pamela Liebman – President & Chief Executive Officer, Corcoran

Panel : How is Israeli proptech helping rebuild the global real estate sector in a new COVID-19 reality?

Moderator:

Oded Eliashiv – Managing Partner, BuiltUp Ventures

Panelists:

Julia Arlt- Global Digital Real Estate Leader, PwC

Jonathan Schultz- Co Founder and Managing Principal at Onyx Equities

Jordan Kostelac- Director of Proptech, JLL Asia

Presenting Startups:

SolidBlock – Issuance and trading platform for property-backed digital securities making real estate work for everyone.Presented by: Yael Tamar- CMO & Partnerhttps://www.solidblock.co

MyTower – All-in-one, innovative platform for next-level property intelligence management.Presented by: Pini Shemesh- Co-Founder & CEOhttps://www.mytowerapp.com

Trusstor - A next generation solution for construction management, creating a safer and more productive working environment. Presented by: Omri Sorek - CEO https://www.trusstor.com/

Aura- A Data-Driven Air Quality Platform Based on User Behavior Algorithm. Presented by: Roei Friedberg - VP Sales & Business Developmenthttps://www.auraair.io/

***The event will be open for Q&A.

ABOUT

BuiltUp Ventures invests in innovative, early-stage proptech startups. The Tel Aviv- and New York-based venture capital firm utilizes a hands-on approach and longstanding industry expertise to increase its partner companies' opportunities for success.

Focusing on the real estate sector, BuiltUp Ventures offers a 360-degree solution that encompasses the most promising Israeli startups, providing customers with the pieces to complete every stage of the proptech puzzle.