Prophetic Prayer Explosion 2018 - WORD OF THE LORD FOR 2019 & BUSINESS LUN...
Description
It's YEAR 9 of Prophetic Prayer Explosion and this year we're FOCUSING on the MARKETPLACE!
What is GOD calling you to do OUTSIDE THE CHURCH as an AMBASSADOR for Christ!
YES, there is a word for BUSINESS OWNERS, ENTREPRENEURS, ENTERTAINERS, ARTISTS, CEOs!
NO MATTER what your CAREER is, there is a PROPHETIC WORD for you in this SEASON.
See you SATURDAY December 15th at 10am ...DON'T BE LATE!!!
DON'T FORGET YOUR SMART PHONE OR DIGITAL RECORDER so you can RECORD YOUR PERSONAL PROPHECY AT THE END. Our Prophets are READY TO GIVE YOU THE WORD OF THE LORD FOR YOU FAMILY AND CAREER!! Yes, we PROPHESY, TO YOUR CHILDREN TOO!!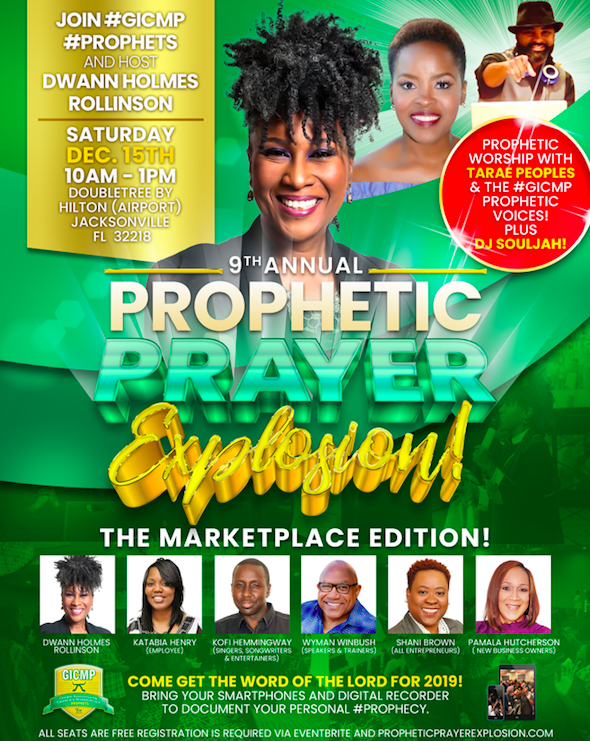 Have LUNCH with Apostle Dwann and LEARN HOW TO LEVEL-UP your 2019 VISION!
Black Friday Special is $74.99 instead of $99 -