About this Event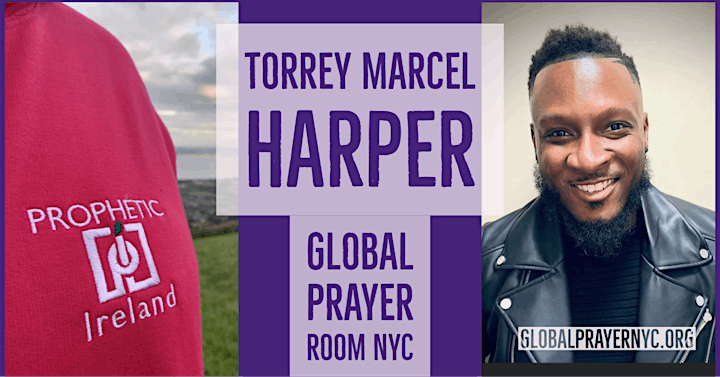 Prophetic Ireland Ministries has the pleasure to host.
Torrey Marcel Harper
TORREY, IS THE SENIOR DIRECTOR AND FOUNDER OF GLOBAL PRAYER ROOM LOCATED IN THE HEART OF NEW YORK CITY.
TORREY CARRIES A BURNING HEART TO SEE LIVES ENCOUNTER THE TRANSFORMING PRESENCE OF GOD PERSONALLY AND CORPORATELY. HE IS PASSIONATE TO SEE SUSTAINED REVIVAL AND REFORMATION EXPRESSED IN EVERY SPHERE OF SOCIETY BOTH ON A LOCAL AND GLOBAL SCALE.
TORREY IS AN EMERGING YOUNG PROPHETIC VOICE IN THIS HOUR, AND MOVES STRONGLY IN WORDS OF KNOWLEDGE, WORSHIP AND THE SUPERNATURAL.
TORREY HAS RECEIVED THE HONOR OF BEING A FREQUENT ITINERANT SPEAKER AND WORSHIP LEADER ALONGSIDE LEADERS SUCH AS CINDY JACOBS, CHUCK PIERCE, BILL HAMON, CHE AHN, PATRICIA KING, HEIDI BAKER, JOSEPH GARLINGTON, DUTCH SHEETS, JENNIFER LECLAIRE AND MANY OTHER RESPECTED VOICES IN THE EARTH. HE IS A PUBLISHED PROPHETIC VOICE WITH THE ELIJAH LIST, CHARISMA MAGAZINE, DESTINY IMAGE YEARLY WORD OF THE LORD.