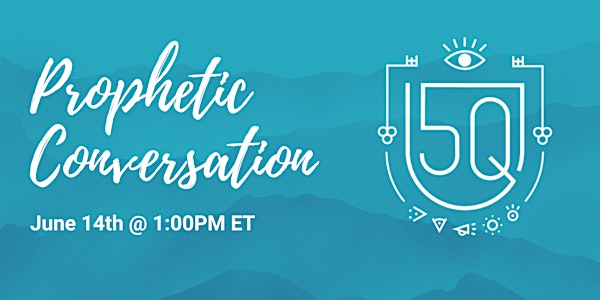 Prophetic Conversation
Join a conversation around the prophetic calling with Cath Livesey
Date and time
Wednesday, June 14 · 10 - 11am PDT
About this event
The prophetic calling and gift have been the subject of much misunderstanding within the Church. The misuse has caused many to take a step back to keep their distance from anything to do with prophecy. Yet, there is a need for the prophetic to be present, particularly in light of the five-fold callings (APEST) of Ephesians 4.
Join Cath Livesey, founder of Accessible Prophecy, author of Holy Disruption, and member of the 5Q Central Team, for a conversation about prophecy. What does healthy, Biblically grounded prophecy look like? How do you go about creating a prophetic culture in your church? What do you do with people who demonstrate the prophetic calling?
These questions and more will be discussed with an opportunity for Q&A from participants.
About the organizer
5Q is the leading training organization for APEST globally. Founded in 2016 by Alan Hirsch and Rich Robinson, 5Q exists to release and empower the APEST callings in individuals, teams, churches, and organizations. This is accomplished through resource development, training, and consulting. 5Q has worked with churches, denominations, and organizations to create a dynamic APEST culture.