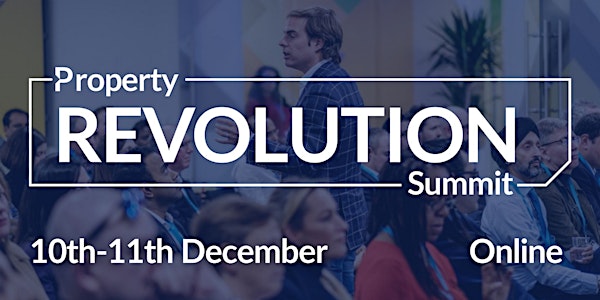 Property Revolution Summit - 2 Day Online Summit
Discover why we are heading into a new Property Revolution in 2023 and how you can capitalise with the right property investing strategy
About this event
Discover how tens of thousands of ordinary Brits are quietly getting rich with minimum investment at the Property Revolution Summit on Saturday 10th to Sunday 11th December.
You will learn how to:
Make more money from ONE simple property deal than you make in 6 months of paid work
Lock in a quick £900+/month income (and how to repeat it again and again...)
Make an immediate £3,000+ without buying a single property
From beginner to winner- Hear from successful Progressive Property Students who have achieved amazing things in just 1 year after getting educated.
Social housing - a recession-proof strategy that would help those in need AND make you money at the same time. Why Property is more secure than pensions in 2023
How the wealthy leverage money to get ahead.
How to recession proof yourself and your family.
How to secure properties using NONE of your own money.
Get the hottest property deals (these deals NEVER appear in Estate Agent's windows)
Find properties at silly low prices (WAY below market price) without paying a single penny
Your step-by-step guide to help you go from beginner to expert property investor in 2023
This online summit will be held across 2 days, from 9:00am to 5:30pm.