Description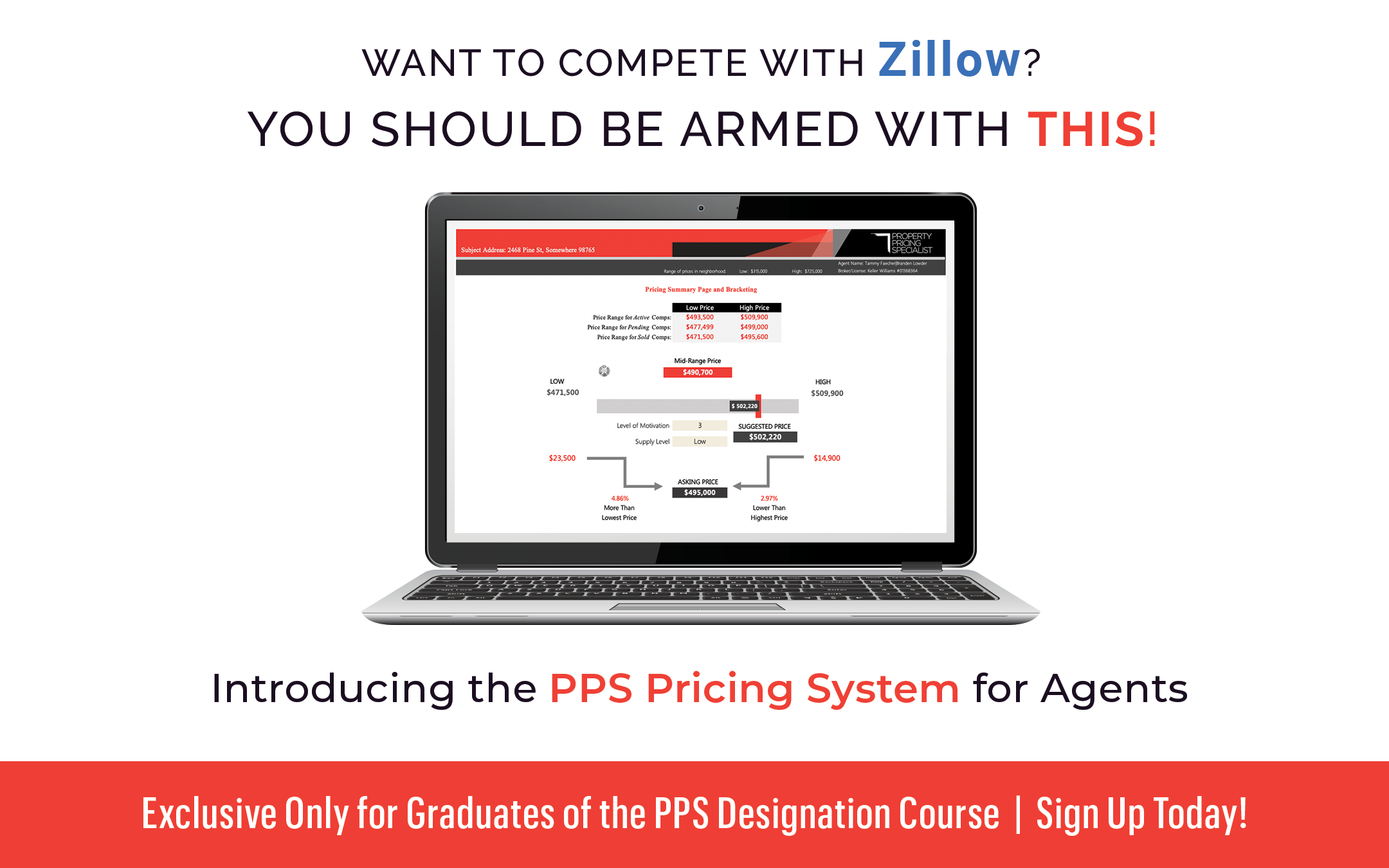 TOTAL AGENT TRAINING!
Come share a journey of personal and professional growth and elevate your real estate career to a new level.
Offered by THE REAL EDGE LLC, the Property Pricing Specialist (PPS) designation course is a two-day, high-level training class designed to help any real estate agent become better at communication, build confidence and explore pricing strategies in this new era of real estate. Each student will get two full days of coaching and instruction from the author and master instructor, Branden Lowder. Each student will be provided an Agent Guidebook, additional tools and resources, along with scripts, objection handling and role-play scenarios that they can immediately implement into their business.
In addition, it's an amazing opportunity to network, exchange ideas and become more proficient in the trends changing our industry.
Graduate Testimonials: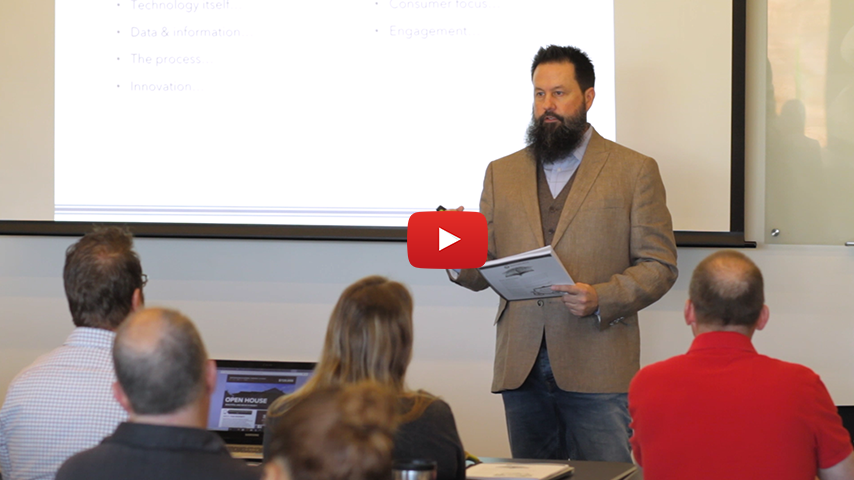 After completing the Property Pricing Specialist (PPS) course, students will be able to:
Explain the correlation between the emotional (right brain) and logical (left brain) elements both needed to make a buying or selling decision.

Execute better communication by being able to identify debate vs dialogue, perception, opinion, subjectivity and objectivity.

Identify different levels of motivation that directly tie to someone's perception of value.

An overview of Maslow's Hierarchy and how it relates to motivation.

Have a better understanding of the ethical responsibilities an agent has regarding their opinions of value.

Become versed in the psychology behind pricing.

Learn how to use proven industry tools to assist with the analyzing of property values and pricing.

Gain a solid understanding of the phases a Buyer or Seller goes through during the real estate process.

Through numerous classroom exercises, find more success in understanding important educational elements.

Understand what an AVM is and how it's calculated.

Have valuable insight as to what the industry is doing with all of the data and property information.

Leverage the PPS Pricing System to properly assist buyers and sellers in understanding a range of pricing to work within.

Acquire a bettering understanding of the appraisal process.

Have the ability to handle potential appraisal challenges before they happen.

Become more effective and efficient at pricing strategies.

Effectively demonstrate agent value in a new era of commission cutting.

Proactively combat the Zestimate and other similar online valuation sites.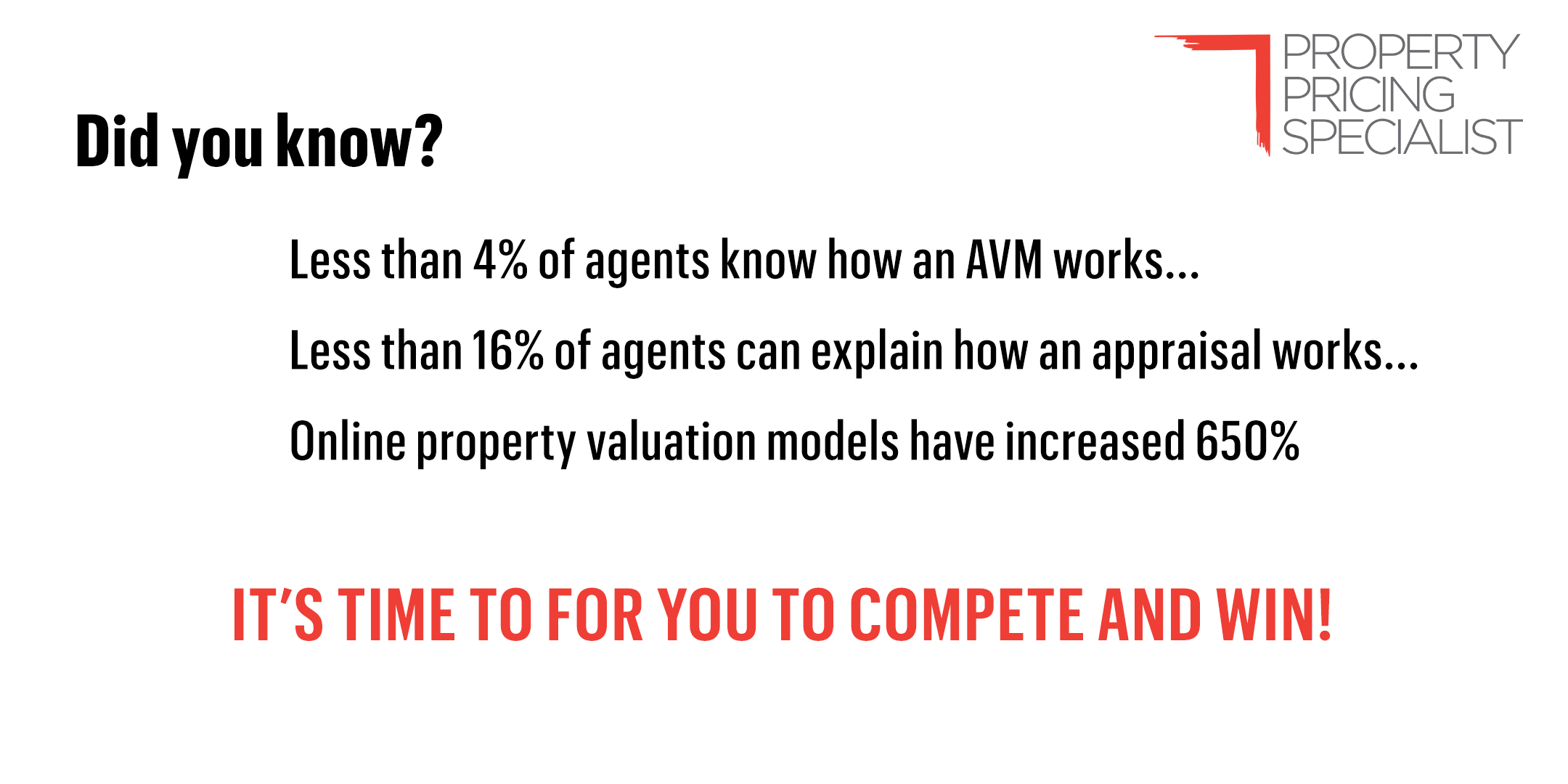 Description of Course:
The tools and resources in this course are designed to help agents navigate the information highway, avoid conflict, overcome the data debate, and become more confident and skilled at client relations and customer service.
Today's buyers and sellers are overloaded with data and information. In particular, what is a property really worth? Even though they may be confused and not sure what it all means, they feel empowered.
Far too often, with the consumer feeling self-assured, most real estate agents are not armed with specialized training that brings the information together so that the consumer can make the best decisions for themselves while at the same time, staying out of conflict.
We've developed a system that not only teaches agents how to work in this new age, but gives them the tools and confidence to demonstrate value to their clients in a brand-new way. We have a sound solution for the agent to regain control and take the reigns back in guiding and counseling their clients.
They will gain a strong understanding of industry standards and practices regarding property valuations and walk away with a greater knowledge, perspective and practical tools that will differentiate them from others. In addition, learn a strategy to negotiate better with sellers, buyers, investors, appraisers and other agents.
Syllabus | Outline of Course Content:
Introduction to the Real Estate Market – today's obstacles, what's changed in 25 years, new market reality.

What Does Value mean? – things that influence real estate values, levels of motivation, price vs value, perception, opinion and motivation.

Psychology of Buying – phases of the process buyers and sellers go through, what is market value?

The PPS Approach to Pricing – theories, strategies and information gathering needed for effective communication.

Introduction to the PPS Pricing System – a tool designed to assist in interpreting property similarities through adjustments with the goal of a establishing a price range.

Best Practices & Case Studies – key areas of focus for properly assessing a property's potential worth, examples of how effective the PPS Worksheet is, other considerations.

Industry Standards – review of the guidelines established and practiced in the property valuation industry. Including NAR, National Association of BPO Professionals and National Appraisal Standards.

How to Plan for Success – putting all of the information together.

Role Plays, Case Studies and Group Discussions – Day 2 of training focuses on how to take the information, along with the new tools, and make it work effectively.
Please feel free to contact us directly at RealEdgeAgents@gmail.com for more details or questions.
WE LOOK FORWARD TO SEEING YOU THERE!
BRING A GUEST AND RECEIVE AN ADDITiONAL DISCOUNT OF 27% OFF THE EARLY BIRD TICKET PRICE! EMAIL YOUR REQUEST AND WE'LL SEND YOU THE CODE!