Description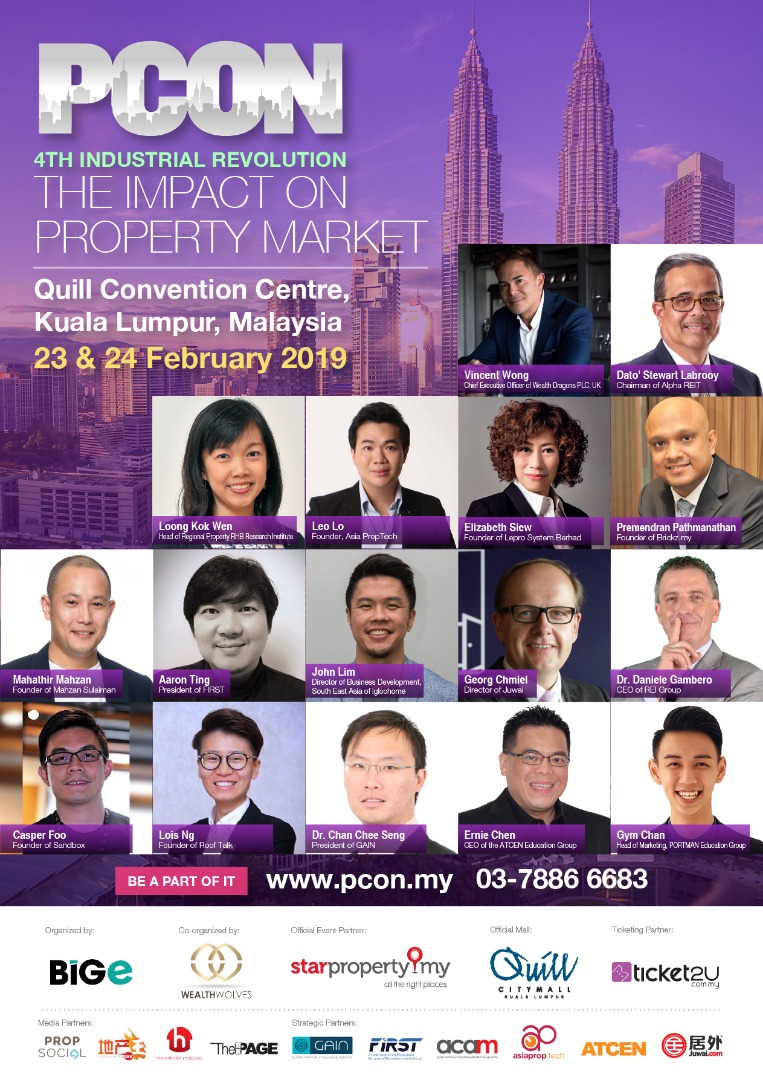 Why you should care about how 4 Indurstrial Revolution going to impact the property market?
As we are moving towards the 4th Industrial Revolution, the whole property market will be forced to Change the ways we buy, sell or rent property. It doesn't matter whether you are Developer or Contractor, Property Agent or Negotiator, Investors or Home Buyer, we can expect the real estate transaction will never be the same again. Are you ready to adopt the changes of the Property Technology Transformation?
Change is no longer inevitable. Jobs are being replaced by technologies, and more applications such as Virtual Reality (VR), Augmented Reality (AR), Artificial Intelligence (AI), Big Data, IoT, Blockchain and etc are definitely changing the way we do business in Real Estate Industry. How does it going to impact your career and your future investment?
Property Conference (PCON) 2019 is the conference that you should not be missed! We have invited the top-notch Market Leaders and Proptech Experts to to give you insights of the market transformation in the next 3 to 5 Golden years.
Conference highlights -
Malaysia Property Market: Moving Forward

The best Creative Investment Strategies that you need to know in 2019

How Fractional Ownership benefits the property market

Understand the Opportunities and Future of Property Technology

How Artificial Intelligence is transforming the Property Industry

Will Blockchain revolutionize the Property Market?

Impacts of co working and coliving on the commercial and residential sector

How millennials are going to reshape the property market

Property Crowdfunding, P2P Financing: For or Against?

How Fractional Ownership can benefit the property market?
And more…
Want to know what role you can play in this 4th Industrial Revolution and to avoid your job being replaced or your business being wiped out?
What are the alternative options that help more property investors and home buyers to acquire good property especially when the banks are tighten up the mortgage lending?

This is the conference that provide you with the answer!
Join us to be the first mover to stay ahead of the property game, let's make 2019 the best year ever!
Visit - www.pcon.my