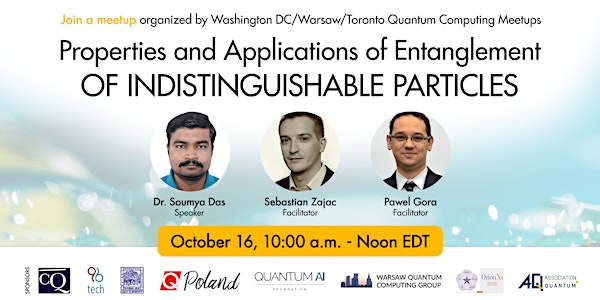 Properties and Application of Entanglement of Indistinguishable Particles
Properties and Application of entanglement of Indistinguishable particles
About this event
In the last century, physicists were curious whether quantum entanglement can show some nontrivial advantages over classical information processing tasks. The answer is positive due to various quantum protocols like teleportation, dense coding, quantum cryptography, etc. In the current century, the entanglement of indistinguishable particles and their similarity with, as well as difference from that of distinguishable ones, is becoming the major area of research. Various physical systems like Bose-Einstein condensate, quantum dots, ultra-cold atomic gases, etc., support the existence of entanglement of indistinguishable particles which find applications in tasks like teleportation, and entanglement swapping, metrology, coherence, steering, etc.
We prove that if quantum particles (either distinguishable or indistinguishable) can simultaneously produce and perform hyper-hybrid entangled state and unit fidelity quantum teleportation respectively, then cloning any arbitrary quantum state is possible. This theorem results in two no-go theorems:
(1) hyper-hybrid entangled state is not possible for distinguishable particles and
(2) unit fidelity quantum teleportation is not possible for indistinguishable particles.
These theorems establish that there exists some quantum correlation or application unique to indistinguishable particles only and yet some unique to distinguishable particles only, giving separation between the two domains.
We establish a generalized degree of freedom trace-out rule that covers single or multiple degrees of freedom scenarios for both distinguishable and indistinguishable systems. Further, using the generalized degree of freedom trace-out rule, we show that, for two indistinguishable particles each having more than one degree of freedom, the monogamy of entanglement can be violated maximally using the measures that are monogamous for distinguishable particles. This results in the following theorem "In qubit systems, indistinguishability is a necessary criterion for maximum violation of monogamy of entanglement by the same measures that are monogamous for distinguishable particles".
References: [1] Hyper-hybrid entanglement, indistinguishability, and two-particle entanglement swapping Soumya Das, Goutam Paul, and Anindya Banerji, Phys. Rev. A 102, 052401 – Published 2 November 2020 [2] Maximum violation of monogamy of entanglement for indistinguishable particles by measures that are monogamous for distinguishable particles Goutam Paul, Soumya Das, and Anindya Banerji, Phys. Rev. A 104, L010402 – Published 20 July 2021
Brief Bio: Soumya Das completed his PhD in quantum computing and information from Indian Statistical Institute, Kolkata. During his Ph.D., he has published three research papers, two in Phy. Rev. A and one in ACM transaction on quantum computing. Other three are currently under review. Before his Ph.D., he has done masters in communication engineering and signal processing and bachelors in electronics and communication engineering. His research interest is in quantum computation, quantum error mitigation, quantum algorithms and quantum information.
Facilitators: Pawel Gora, CEO of Quantum AI Foundation or Dr. Sebastian Zajac, member of QPoland