Description
Propell® Teacher Workshop for the TOEFL® iBT, dengan pengajar yang merupakan ETS Approved Trainer untuk Indonesia, akan membimbing peserta workshop secara interaktif dengan materi yang berorientasi pada pengajaran di kelas yang dapat membantu mempersiapkan siswa mengikuti tes TOEFL® iBT.

MANFAAT
Pengajaran Bahasa Inggris
• Strategi pembelajaran dan pengajaran untuk meningkatkan kesuksesan siswa
• Aktifitas di kelas yang fleksibel untuk meningkatkan motivasi siswa
• Tujuan pendidikan yang dikaitkan dengan perencanaan pelajaran dan aktifitas kelas
TOEFL® iBT
• Latihan tes secara lengkap
• Rubrik kemampuan berbicara (speaking) dan menulis (writing) yang menjelaskan kriteria penilaian skor
• Perbandingan skor antara tes TOEFL® iBT, TOEFL® Computer-Based dan TOEFL® Paper-Based
Peluang
• Menambah jaringan sesama pengajar untuk berdiskusi
• Evaluasi program yang sudah dilakukan dan tanggapan atas program tersebut
• Mendapat sertifikat berstandar internasional setelah mengikuti seluruh program workshop

YANG HARUS MENGIKUTI WORKSHOP :
1. Pengajar Bahasa Inggris
2. Trainer
3. Manajer akademik
4. Kepala Departemen Bahasa Inggris
5. Kepala Program Bahasa Inggris
6. Direktur Lembaga Bahasa Inggris
7. Koordinator TOEFL iBT®
PROFIL PEMBICARA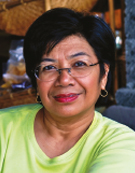 Hafilia R. Ismanto merupakan ETS Approved Trainer untuk Propell® Workshops for the TOEFL® iBT Test di Indonesia. Memiliki pengalaman selama 25 tahun dalam pembelajaran dan pelatihan bahasa Inggris, sebagai pengajar dan trainer untuk pengajar, telah mengikuti berbagai pengujian bahasa Inggris dengan skor tinggi menjadikan beliau sebagai pengajar yang berkualitas dan sesuai untuk workshop berstandar internasional.
Saat ini beliau berposisi sebagai direktur akademik untuk International Test dan Managing Director dari HRI & Associates, yang mengembangkan gagasan untuk perbaikan sumber daya manusia Indonesia melalui pendidikan bahasa Inggris.
Pernah bergabung diberbagai institusi terkemuka, perusahaan dan organisasi seperti LBPP LIA (Lembaga Bahasa dan Pendidikan Profesional LIA), LBI (Lembaga Bahasa Internasional UI), SSE (Sampoerna School of Education), TEFLIN (The Association of Teachers of English as Foreign Language in Indonesia), MELTA (The Malaysian English Language Teachers Association), Pearson Education dan Mentari Books.
INVESTASI : Rp 2.500.000/ participant
Catatan :
• Pendaftaran dapat dilakukan secara perorangan atau berkelompok.
• Workshop akan diselenggarakan dengan jumlah peserta minimal 8 orang, dibawah jumlah tersebut workshop akan diundur ke jadwal selanjutnya.
• Terbuka kesempatan untuk kerja sama pelaksanaan workshop di tempat lain dengan jumlah peserta minimal 20 orang. Informasi lebih lanjut mohon hubungi +6221 5711943 atau email education@itc-indonesia.com
CARA PENDAFTARAN
1. Isi formulir pendaftaran.
2. Selesaikan pembayaran secara transfer ke rekening:
• Nama : PT International Test Center
• Nomor : 122 000 426 0181
• Bank : Bank Mandiri, Kantor Cabang Rumah Sakit Jakarta
3. Mohon kirimkan bukti transfer melalui email education@itc-indonesia.com atau fax ke nomor +6221 5711944