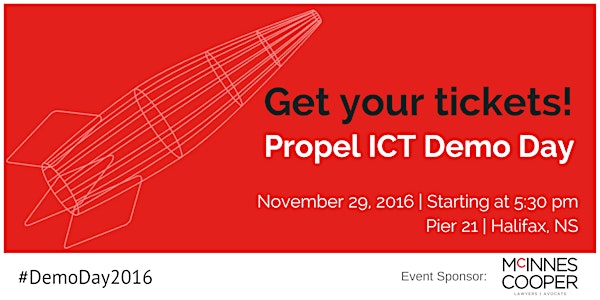 Propel ICT Demo Day - Tuesday Nov 29th, 2016
When and where
Location
Pier 21 1055 Marginal Rd Halifax, NS B3H 4P7 Canada
Description
PROPEL ICT
REGIONAL
DEMO DAY
FALL 2016
Fall Demo Day 2016 will feature the TOP companies that participated in our Pan-Atlantic Launch and Build Accelerator programs. The companies presenting represent the best companies from this year's cohorts - a group of 36 companies in total from all 4 Atlantic provinces. Each company has gone through an extensive 12 week program to get help them accelerate the growth of their company.
Schedule:
5:30 PM - 6:00 PM Welcome Reception (Cash Bar)
6:15 PM - 8:15 PM Propel ICT Demo Day
8:30 PM - Close McInnes Cooper After Party
Date: Tuesday November 29th, 2016
Location: Pier 21 - Halifax, NS
Background:
The Launch Program helps guide entrepreneurs through the early stages of validating, developing and launching a startup. This program is delivered onsite at one of three community partners - Common Ground in St. John's, Planet Hatch in Fredericton, Startup Zone in Charlottetown, and Volta in Halifax.
The Build Program focuses on later stage startups beyond the idea phase, who have earned initial market traction. The program helps entrepreneurs grow their company with a strong emphasis on sales and marketing internationally. The Build cohort was hosted at the Venn Centre in Moncton.
Presenting Companies:
Launch Program:
Ad Blocking Aware (http://adblockingaware.com/), Charlottetown, PEI - Ad Blocking Aware helps websites regain revenue and analytics lost by the use of ad-blockers. We do this by detecting ad block usage and allowing websites to engage with ad block users through the use of our appeal platform.
eChart Health Care (echarthealthcare.com), Moncton, NB - eChart Health Care joins families and care facilities together in real-time regardless of location.
GreyLitMatters (GreyLitMatters.ca), Halifax, NS - GreyLitMatters offers unlimited and instant global publication opportunities without format or content restrictions and provides "true-peer" review analytics telling the authors who read their work and what they thought of it. For industry, GreyLitMatters saves time and money by providing a one stop grey literature search for prior art and research.
Metricsflow (metricsflow.com), St. John's, NL - Metrics Flow makes it easy to measure content marketing effectiveness, personalize and use content to drive revenue.
Mink Manager (minkmanager.com), St. John's, NL - Mink Manager is a highly advanced fur farm management system that allows the farmer to increase their revenue by making better breeding programs and improving their overall workflow.
Orchard (useorchard.com), Halifax, NS - Orchard enables supermarkets to use dynamic content marketing to increase unplanned purchases and average basket size ($) in their stores. With data from Orchard, supermarkets can better engage and up-sell shoppers in real-time through personalized content at the closest digital sign.
rayZen (startrayzen.com), Fredericton, NB - rayZen is an online fundraising community that connects donors to nonprofits through fun and exciting games.
Build Program:
GoBumpFree (gobumpfree.com), Halifax, NS - GoBumpFree is made exclusively for airline employees and their buddies! Their exclusive club lets airline employees book last minute hotel rooms without the risk of cancellation fees.
Ironflow (ironflow.com), Dieppe, NB - PurelyHR provides companies the freedom to create a tailored solution to satisfy their specific HR needs and provide an effective solution they can trust.
one simpler (onesimpler.com), Fredericton, NB - The one simpler solution to automating production equipment, studios, and more. Simplify complex tasks, increase productivity and production quality, and reduce training time and costs.
Stay Golden Apparel (staygolden.ca), Charlottetown, PEI - Stay Golden Apparel is an online clothing company that helps groups display their identity through custom sourced and crested clothing. Their team works with hundreds of clients each year across Canada to take their clothing ideas from concept to cotton.