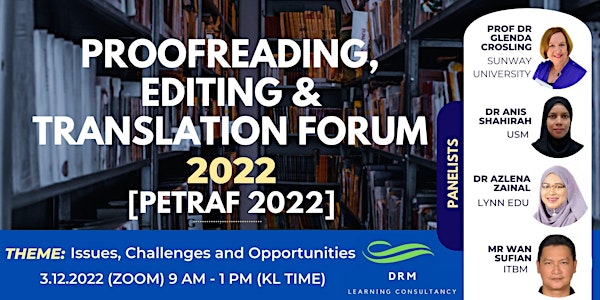 Proofreading, Editing and Translation Forum 2022 [PETRAF]
PETRAF 2022 discusses the issues, challenges and opportunities in the field of Proofreading, Translation and Editing. Join now!
Refund Policy
Contact the organizer to request a refund.
About this event
PETRAF 2022
Date: 3/11/2022
Time: 9 am to 1.30 pm (Malaysian Time)
Moderator: Dr Munir Shuib, DRM Learning Consultancy
Speakers:
Prof Dr Glenda Crosling, Sunway University
Dr Anis Shahirah, Universiti Sains Malaysia
Dr Azlena Zainal, Lynn Edu Consultant
Mr Wan Sufian, Intitut Terjemahan dan Buku Malaysia
Proofreading, editing, and translation are areas of work and research that are increasingly gaining importance. With the need for high-quality publications among professionals today, proofreaders, editors and translators have become highly sought-after talents. Their prowess is relied upon to provide publishing-related solutions for the consumption of inquisitive minds.
As in any area of work, proofreaders, editors, and translators are not without issues and challenges. The technological advancement that disrupts the traditional ways of doing things and outstretches the capacity of the conventional method, the proliferation of freelance proofreaders, editors, and translators in contemporary academic and business settings, seeming chaos in the publishing world, and the explosion of self-publishing are just some examples of the issues and challenges confronting them.
PETRAF 2022 is an opportunity for proofreaders, editors, translators, and others involved in academic and other professional settings to learn more about the issues and challenges, and, equally importantly, seek practical solutions to the challenges, and develop new opportunities.
PETRAF 2022 offers a platform for participants to gain expansive insight into important developments in the industry. These include current practices in proofreading, editing, and translation, current proofreading, editing, and translation tools, audience expectations, how to approach proofreading, editorial, and translation work in a way that respects authors and their audiences, and many more.
The forum also provides a place for freelance, academics, researchers, students, and anyone interested in proofreading editing, and translation to network and socialise, swapping experience and advice and, perhaps, laying the foundations for future mutually beneficial partnerships. It aims to cater to all levels of experience, from those just starting out to experienced proofreaders, editors, and translators