Proof Is Possible Tour: San Francisco Workshops sponsored by Building Energ...
Description
PROOF IS POSSIBLE WEEK-AT-A-GLANCE
MON-FRI, 5-6pm: Open House Tours of the #TinyLab tiny house on wheels (FREE- No registration required)
WEDS, 2-4pm: Profiting from Home Performance in Real Estate ($20)
THURS, 6:00-8:00pm: Home Performance Crash Course for Homeowners (FREE)
FRI, 9am-1pm: Advanced Techniques and Tools for Home Performance ($99- 2 BPI CEU)
SAT, 11am-1pm: HOW TO ENGINEER & BUILD A HIGH PERFORMANCE TINY HOUSE ($49)
(See Tickets for Event Locations- Open House Tours will be at Black Pine Circle Day School)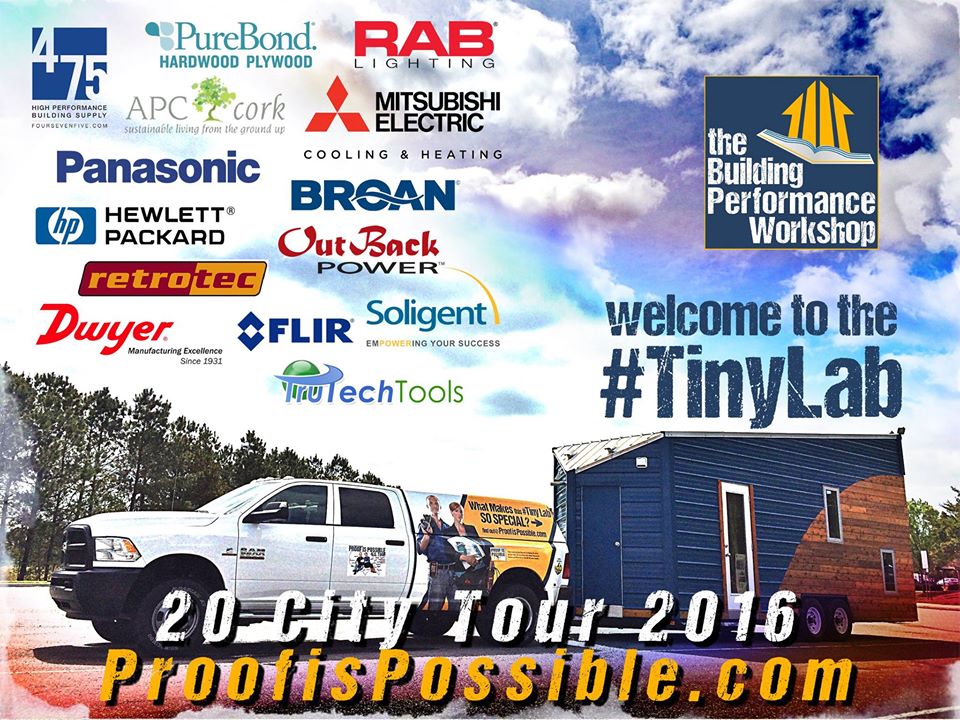 Click the green rectangle above to read workshop descriptions and register.  
TV and film personalities Corbett and Grace Lunsford will lead an entire week of Tiny House Tours and workshops for homeowners, realtors, and remodelers. As a showcase for their 20-city "Proof Is Possible Tour, " the Lunsford's #Tiny Lab is built to the highest performance standards – the most energy efficient, the best indoor air quality, the most comfortable, the most durable, net-zero, and with green materials. With built in sensors to prove it, this house demonstrates best practices that you can do yourself, and explains how to get your contractors to use best practices in your remodeling projects to deliver proven, verified results.  
Building Energy Compliance Testing is the proud sponsor of San Francisco's Proof is Possible Tour in Partnership with Build it Green, Black Pine Day School, Truitt & White, and StopWaste.
---
"Paradigm shifting training. Excellent form and function. Corbett your passion is contagious. I look forward to developing a Rock Star building performance business here in Michigan. Thanks." ~Jamie Langan
"Corbett Lunsford was absolutely instrumental throughout our condominium renovation project. From planning thru completion he was easily the smartest and most useful resource we had to assure the project was being done as energy efficient as possible. I think of all the subcontractors and specialists on the project Corbett brought the most value to the table to assure everything was done correctly. I could not recommend them enough." ~Peter Cerbin

"Corbett has a knack for cutting through the fluff. I flew halfway across the country for his advanced training and definitely got my money's worth." ~Tom Smith
"Corbett has by far the most knowledge of anyone I've ever worked with in the building science and home performance business. I've learned so much from Corbett and can tell he has a passion for this business that very few have." ~Steve Johnson
READ MORE TESTIMONIALS FOR CORBETT'S WORKSHOPS HERE
---