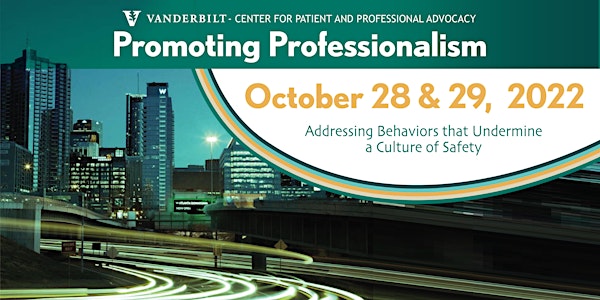 Promoting Professionalism - Atlanta 2022
Promoting Professionalism in Healthcare - Live Atlanta 2022
When and where
Location
The W Atlanta Downtown 45 IVAN ALLEN JR. BOULEVARD Atlanta, GA 30308
About this event
Now, more than ever, we are committed to supporting professionalism in health care.
What does an organization do when individual or group behaviors undermine the best attempts to create a safe, respectful, and reliable environment? You need a plan and the right people, processes and systems. The Vanderbilt Center for Patient and Professional Advocacy has conducted more than 20 years of research to help medical centers and physician groups make healthcare kinder, safer and more reliable. Our internationally recognized faculty have years of experience in healthcare leadership and professional accountability. CPPA's leadership training, Promoting Professionalism will provide practical tactics for attendees who wish to implement these tools in their own organizations.
Find a downloadable brochure to share, here.
Notable Highlights
2-day fully interactive sessions with multiple breaks.
CME/CNE credit hours available upon completion.
Opportunities to meet and network with faculty and other attendees outside of course sessions.
Group discount code for hotel will be provided after registration.
Course fee includes attendance to both days and food and beverages during the event.
Agenda
October 28, 2022 - 3pm-7pm (sign in at 2:30pm)
October 29, 2022 - 8am-2pm (sign in at 7:30am)
Objectives
After participating in this CME/CNE activity, participants should be able to:
Discuss the relationships between behaviors that undermine a culture of safety and suboptimal outcomes.
Describe a method that may be used for identifying professionals with a pattern of behaviors that undermine a culture of safety and respect.
Identify a range of behaviors that undermine a culture of safety and respect and describe a "professional accountability pyramid."
Describe an evidence-based approach for addressing behaviors that undermine a culture of safety and respect.
Discuss three graduated levels of interventions for addressing behavior that undermine a culture of safety.
Consider pertinent legal issues in addressing behaviors that undermine a culture of safety and respect.
Accommodations
Attendees are responsible for making their own reservations for accommodations. A limited number of rooms have been reserved at the W Atlanta Downtown at a discounted rate. Once the room block is full, rates will be quoted based on availability. All room reservations are payable by the individual guest. Hotel group discount codes and information will be provided after registration is complete.

FAQ's
What COVID-19 restrictions will you have in place?
CPPA is closely monitoring COVID-19 prevalence and may adjust live course attendance limits and required safety practices as necessitated by the pandemic and as directed by the CDC, public health, and other relevant guidelines. Attendees will be asked to comply with all live course and conference guidelines, which are informed by local and VUMC guidelines for public gatherings. Please keep in mind that these guidelines are dynamic, as necessitated by public health needs. Participants will receive communication periodically with current course status and any updated guidelines.
Where is the course being held?
Our live professionalism course will be held in person at the W Atlanta Downtown.
Where do I park?
The W Atlanta Downtown is a valet only hotel and is $45 overnight and $30 for all day.
I am not able to attend the full course. What are my options?
Participation in the full course is highly recommended. Registration cost includes the full course. We do not offer daily rates. This course will not have virtual access. This will be a fully live event.
What if I have to cancel?
If you can no longer attend our professionalism course, please reach out to mercedes.panzer@vumc.org.
Individual cancellation refunds on registration:
100% refund from July 5th-August 8th
50% refund from August 9rd-Sept 19th
No refund after Sept 19th
What is the deadline for cancelling my hotel reservation?
You have up to 72 hours before hotel stay begins to cancel your W Atlanta Downtown hotel reservation for full reimbursement.