Description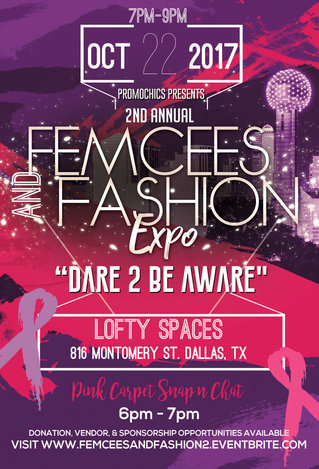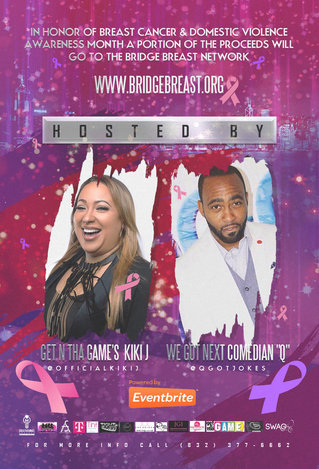 The Femcees and Fashion Expo is a premiere event that is dedicated to highlighting Women that often go unnoticed. This is not just your average fashion show, but a special occassion to honor women in music, fashion, health and beauty. This official Pink Carpet Event will spotlight 3 different causes that affect women on a daily basis. Breast Cancer, Domestic Violence and HIV/AIDS prevention education.
Although Domestic Violence is not limited to women, statistically three women are murdered a day by an intimate partner. Women 18-34 are at greatest risk of becoming domestic violence victims.
In 2017, anestimated 252,710 new cases of invasive breast cancer areexpected to be diagnosed in women in the U.S., along with 63,410 new cases of non-invasive (in situ) breast cancer.
Last year was Dope but this Year "Dare 2 Be Aware" as Promochics Presents the 2nd Annual Femcees and Fashion Show Expo on Sunday October 22nd at Lofty Spaces in Dallas, Texas. This year we are educating and bringing awareness to these causes that directly affect Women right here in our own communities. Join us as we bring ladies together from all walks of life to ENCOURAGE, EMPOWER and IMPACT lives through Music Beauty and Fashion and Art. Our models will include women that have experienced domestic violence or may be a breast cancer survivor, either way, we want to make them look and feel special by turning them into a runway model for the night. Each team will collaborate to come up with a set that brings the designers vision to life through music while the models rip the runway for a cause.
This year, a portion of the proceeds will go to our partner The Bridge Breast Network. For more info about the organization, visit www.bridgebreast.org.
For info on upcoming Model Casting Calls for the show visit: promochicscastingcall.eventbrite.com
---
Our Sponsors Partners and Supporters Include:
The Tint School of Cosmetology
Tx PR Girls
and more!
For more info on upcoming Model/Brand Ambassador Casting Calls, visit: Promochics Casting Call
See you at the Fashion Show!
#fashionshowsindallas
#fashionshow
#runway