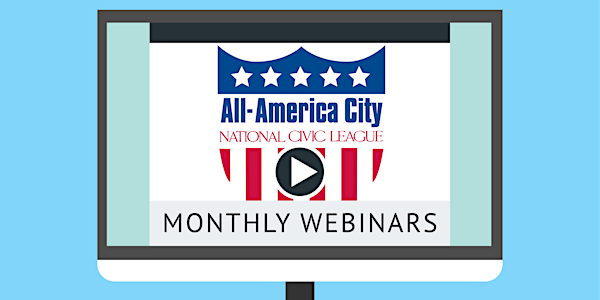 Promising Practices Webinar: Embedding Engagement in Climate Policy
Hear about a new report making the case for ambitious climate policy that builds upon the best models of engagement and collaboration.
About this event
Wednesday, November 20th at 2pm ET (1pm CT, 12pm MT, 11am PT)
A new report, Civic Engagement in American Climate Policy: Collaborative Models, seeks to develop federal policy designs based upon robust civic engagement models across multiple fields of practice. The report considers how to build the civic and institutional capacity for resilient and just communities in face of the twin crises of climate and democracy.
In this webinar we will hear from the author and contributors of this report who will provide an overview of the main recommendations and discuss how the report can be used as an essential part of climate policy and investment in the coming years. We will also do a deeper dive into two of the report's main sections that are of particular interest and relevance to the National Civic League: Sustainable Cities and Local Climate Planning, and Civilian Climate Corps.
Speakers:
Carmen Sirianni, Editor-in-Chief, CivicGreen
Carmen Sirianni is the Morris Hillquit Professor Emeritus in Sociology and Public Policy, Brandeis University. He was academic advisor to the EPA's Community Action for a Renewed Environment (CARE) Program and served as Academic Chair of Partnering with Communities: National Workshop on Federal Community-Based Programs, in collaboration with the White House and federal agencies in 2009-2010 during the Obama administration. Carmen also served as research director for the joint White House Domestic Policy Council and Ford Foundation Governance initiative on Reinventing Citizenship during the Clinton administration and he co-directed the action research project on Youth Civic Engagement Networks for the Pew Charitable Trusts. He has held research appointments at the Ash Center for Democratic Governance and Innovation at the John F. Kennedy School of Government at Harvard University, the Institute for Advanced Study in Princeton, and the Minda de Gunzburg Center for European Studies at Harvard. He is an elected fellow of the National Academy of Public Administration and served as co-principal investigator of Non-State Actors in Environmental Governance, sponsored by the National Socio-Environmental Synthesis Center(SESYNC), University of Maryland, with funding from the National Science Foundation.
Mary Ellen Sprenkel, President & CEO, The Corps Network
Mary Ellen Sprenkel is President and CEO of The Corps Network, which represents some 145 youth service and conservation corps across the country. During her tenure, Service and Conservation Corps have become better known programs to lawmakers and policymakers throughout the federal government. Legislation that would expand and bolster youth programs including Service and Conservation Corps has been routinely introduced in both the U.S. House of Representatives and the U.S. Senate. Under Mary Ellen's leadership, in 2010 more than $63 million of American Recovery and Reinvestment Act projects were granted to Service and Conservation Corps throughout the country by 15 federal agencies. These projects provided youth with jobs and service opportunities while connecting them to public lands including national parks and forests.
She has served as a member of the Federal Advisory Committee tasked with providing recommendations to federal land management agencies on how to implement a 21st Century Conservation Service Corps. Prior to joining the Corps Network as its Director of Government Relations, she served on Capitol Hill for a decade, as well as in other nonprofit and educational organizations.
Merlene Mazyck, Acting Director, Workforce Development Partnerships Civilian Climate Corps Coordinator & NRE Liaison, US Forest Service
Merlene serves as the Civilian Climate Corps Coordinator & Natural Resources & Environment Liaison and Acting Director, Workforce Development Partnerships, Forest Service National Partnership Office. In these roles she helps coordinate the Forest Service implementation of the Administration's climate resilience priorities and the establishment of a workforce development partnerships to expand the engagement of marginalized communities and hiring outcomes. She was instrumental in rebranding Forest Service volunteerism efforts, promoted expanded service opportunities for youth and veterans through the 21st Century Conservation Service Corps, and established new programs such as the Resource Assistants Program that are making significant contributions to the Forest Service mission and promoting workforce development for emerging professionals. Prior to joining the Forest Service, Merlene served as the Director of AmeriCorps NCCC (National Civilian Community Corps), an AmeriCorps program. In this role, she provided leadership to a $30 million plus federally funded and operated program that engaged young adults in full time team-based residential national service focused on disaster relief and response, environmentalism and housing construction and rehabilitation. As Director of AmeriCorps NCCC, she managed strategic planning and daily operations including financial and human resources for 1,200 full time service members and over 100 full-time staff, consultants, and contractors; policy making; budget formulation and execution; and outreach, recruitment, selection and placement, and alumni affairs. She has worked in the youth service field most of her professional career serving in various education, workforce development and leadership roles with youth corps and non-profits, and as a training and program monitoring consultant in the private sector in addition to her government service. Merlene received a Bachelor of Science from Temple University and earned her Master's in Public Administration from Kean University in New Jersey. She enjoys gardening, painting, and walking and hiking local trails and public lands.