Professional Development Event for all University System Maryland (USM) graduate students and postdocs, especially underrepresented in STEM
About this event
2021 Summer Success Institute, "Making the Most of Now: Opportunities, Setbacks & Navigating Uncertainty
Welcome to the registration for the PROMISE Summer Success Institute (SSI) 2021! This conference, hosted by PROMISE program volunteers from across the University System of Maryland, will be held virtually from August 19 - 20, 2021.
What is SSI? SSI began as part of a NSF grant-funded program in 2003 to diversify the professoriate. SSI provides professional development, encouragement, motivation, career advice, peer support, and camaraderie, particularly for underrepresented graduate students and postdocs in STEM fields. However, many sessions are helpful for broader audiences as well, including undergraduates and faculty across non-STEM disciplines. Interested students and scholars from any group or discipline are warmly invited to attend!
While typically this event has hosted hundreds from within the University System of Maryland, this year's virtual event is open to scholars from all over the country.
This year's program: The theme for the 2021 PROMISE SSI is "Making the Most of Now: Opportunities, Setbacks & Navigating Uncertainty." This year's program will have inspirational keynotes, concurrent sessions featuring panels of doctorates now working as faculty, as federal agency employees, in industry, or as change-makers work in science writing, science policy, and public health. There will also be a workshop on building and polishing your online brand and web presence – an increasingly important skill for all STEM scholars at all stages of their careers. Importantly, this year we are offering networking breakouts following every panel, giving you the opportunity to personally connect with our all-star speakers in small groups. We aim to help you CONNECT, to better understand the kind of work you can do with your graduate degree, and how to leverage the unique opportunities this past year has created for us personally and professionally. We hope you join us!
As with all PROMISE activities, we welcome you to invite and include your family and friends in our program. We call this practice "the Jessica Effect," after the late Jessica Soto-Perez. In opening our program, we honor the cultural and familial influence of your community and simultaneously promote understanding of your academic experience to those in your lives.
SSI is funded in part by the National Science Foundation (NSF), Directorate for Education and Human Resources (EHR), Division of Human Resource Development (HRD). NSF AGEP HRD Awards: University of Maryland Baltimore County (UMBC) (1820984), University of Maryland College Park (UMCP) (1820975), University of Maryland at Baltimore (UMB) (1820983), and Salisbury University (SU) (1820971), and Towson University (TU) (1820974), and the Division of Engineering Education and Centers NSF EEC Awards: University of California, Davis (2051599), University of Maryland Baltimore County (UMBC) (1734741).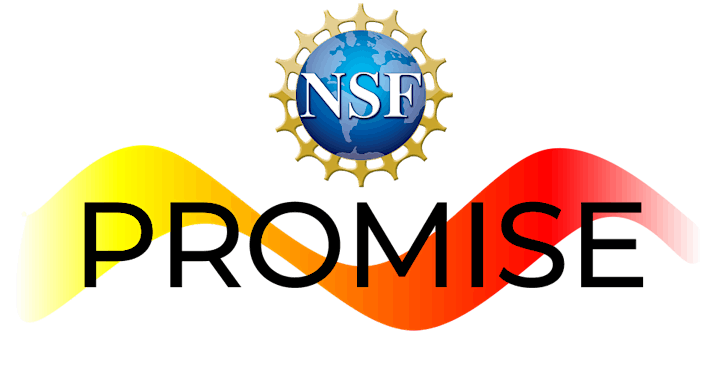 Organizer of PROMISE Summer Success Institute (SSI) 2021 #SSI2021
PROMISE: Maryland's Alliance for Graduate Education and the Professionate (AGEP) is a National Science Foundation alliance of the 12 institutions within the University System of Maryland, dedicated to the increasing the number and diversity of Ph.D. graduates in the sciences and engineering who go on to academic careers. AGEP is a program of the National Science Foundation, and PROMISE is one of several AGEPs with the United States. Broadly, students can participate in PROMISE regardless of their status (full-time, part-time), ethnicity, discipline, or source of funding. Narrowly, students who are underrepresented will be strongly supported as they utilize the services and resources of PROMISE; these students can be encouraged to consider PROMISE to be one of their major mechanisms of support.
PROMISE has activities for undergraduate students, with a focus on cultivating graduate students, supporting postdoctoral fellows, and faciltating future faculty diversity in STEM. 
http://www.usmd.edu/institutions/
USM Institutions
Visit one of USM's 12 Institutions:
Bowie State University
Coppin State University
Frostburg State University
Salisbury University
Towson University
University of Baltimore
University of Maryland, Baltimore
University of Maryland, Baltimore County
University of Maryland, College Park
University of Maryland Eastern Shore
University of Maryland University College
University of MD Center for Environmental Science
Regional Higher Education Centers
Find out more about USM's systemwide learning centers, offering access to USM resources for working Marylanders:
Universities at Shady Grove
University System of Maryland at Hagerstown