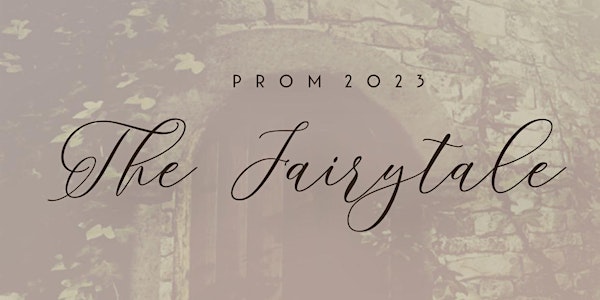 PROM 2 0 2 3 The Fairytale
PROM 2023 The Fairytale! Students will enjoy a night of dance & desserts at Castle Falls Grand Hall & the picturesque storybook grounds!
When and where
Location
Castle Falls 820 North Macarthur Boulevard Oklahoma City, OK 73127
Refund Policy
Contact the organizer to request a refund.
Eventbrite's fee is nonrefundable.
About this event
The Fairytale PROM 2023, will take place at the historic Castle Falls Grand Hall! Please hit the "read more" tab below to catch all the good stuff!
The hall boasts unique items like, a night's suit of armor, a large floor-length mirror, over-sized gothic candle chandelier & more! There is also fire-side patio tables outdoors, garden swing, and more picturesque spots around the castle grounds. It is a perfect setting for a Fairytale evening.
Click here to check out Castle Falls Grand Hall
As always, we will provide amazing theme-worthy desserts and refreshments, appropriate music with our live DJ and chaperones indoors and out, so students are free to enjoy their night! Tickets are limited to 230!
We will participate is theme song votes, Prom court nominations and them verse votes on instagram, please follow @events_by_Summer_S to get in on the fun!
If ever you wanted to wear that ONE fairytale gown & tiara, here is your chance!
!SALE! The first day of ticket sales is February 14th/ Valentine's Day! get your tickets in the first 24hrs and you get $5 off! Use promo code PROM5 to get $5 off while tickets last! Tickets have sold out each prom so do not wait!
Who: Students grades 9th-12th or ages 14-19 by date of event. Any homeschooler, any private schooler, and any student that would like to participate in a Christian-organized, fun with appropriate music, and caring chaperones (Please inquire for chaperone positions, need 1:20 chaperone to student)
Where: Castle Falls Directions
When: May 5, 2023 at 7:00pm - 10:00pm
Dress Guidelines: One thing that is great about our community of high school students is the fact that you all value modesty and class in your formal attire! Here are the guidelines I have.....
Please dress in your nicest attire. Young men wear suits, rent a tux or dress in "Sunday best," cowboy hats welcome! Your shirts should be, and remain, buttoned up to the second button or as chaperone sees as modest. Young Ladies wear formal dress, or "Sunday best" and be comfortable enough in your dress without your hemline becoming a concern to yourself or others as you dance or sit, fingertip rule is best guide.
Most times it is actions that can make you immodest more than a particular one inch of fabric or one button. Many things separate my events from standard public events and our behavior is one. You all have set a very good standard for yourselves at each of the events by Summer S. It is highly appreciated.
**********NEW UPDATE*********************NEW UPDATE************************NEW UPDATE************
We will have TWO FREEEEE GROUP DANCE CLASSES available to all students who have purchases a prom ticket!!! These classes will be taught by professional dance instructors at
@movementokc Located at 8013 Northside Dr, Oklahoma City, OK 73132
April 23rd at 4pm Learn, two-step, line dances
April 29th at 4pm learn waltz and swing
MUST FOLLOW SOCIAL MEDIA ACCOUNTS TO STAY UP TO DATE ON THE DETAILS!
PLEASE FOLLOW SUMMER S. ON INSTAGRAM @Events_by_Summer_S
AND FACEBOOK: at Events and Formals by SUMMER SAAD
------------------------------------------------------------------NEW THIS YEAR: Our very own custom Tshirts ! You will see the Tshirts "ADD ON" under Tickets when purchasing, please select the color and size option as an ADD-ON to your ticket purchase. Shirts will be pick up at Prom or at dance nights
-------------------------------------------------------------------
Charitable Donation: This year's recipient is Ms. Tammy A.
If you know Tammy you know she is a lovely warrior, a dear friend, a giving mother and faithful servant of the Lord.
Tammy is a fellow homeschool mamma who is currently on her third round in the ring fighting a big opponent, cancer….but we know that our God is bigger! Tammy has received miraculous healing throughout her journey since 2019. In particular in her left side of her body after a payer meeting at her home this year! now we are believing for more!
When purchasing a general admission ticket to Fairytale Prom 2023 a portion of the funds are automatically donated to Tammy and family! If you are moved to donate more please use the "add-on" feature during check out. This allows you to select a donation amount in increments of $5!
When you purchase a general admission ticket you will see an opportunity to" add-on" a direct donation for Tammy. These donations go directly to Tammy's hands, and nothing towards prom funds. Direct donations through the "add-on' feature can be made even with out the purchase of a ticket. This is our way of showing some love and support for her through this challenging year!
Check out these pics from THE LAST PROM HOSTED BY SUMMER S. "THE RED CARPET GALA PROM 2022"