Description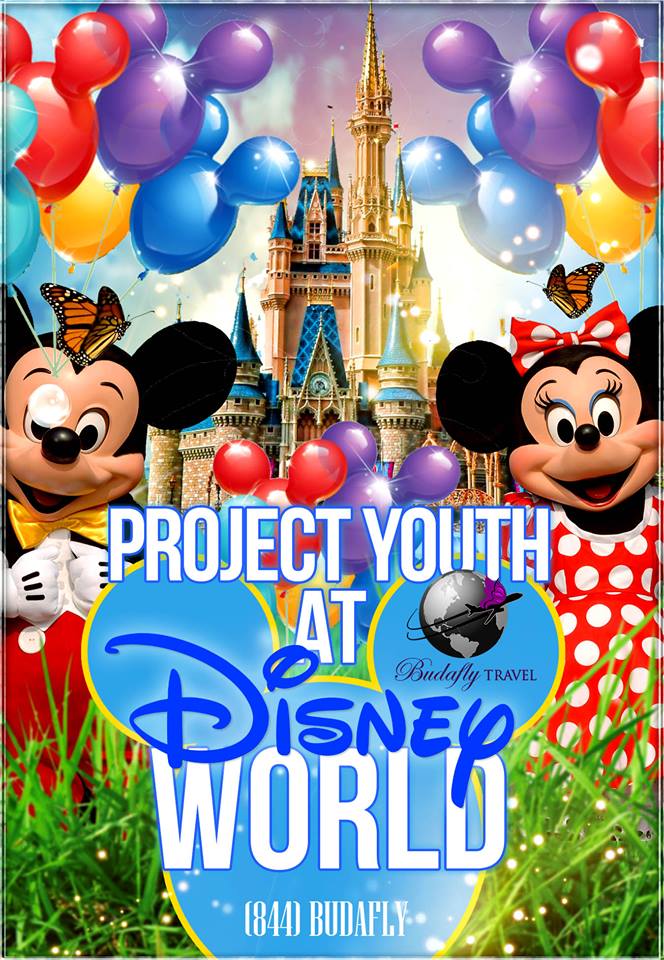 Complete Package Includes:
Roundtrip motorcoach transportation from Atlanta Ga., Columbus, Ms. and Tuscaloosa, Al to Orlando, Fl
(If you have a Group of 25 or more interested in going and you are in another location, contact us to arrange Transpo)
4 days, 3 nights at the Lake Buena Vista Best Western
Full Breakfast Buffet Friday & Saturday Morning Per Person

Lunch at CiCis Pizza or Golden Corral on Thursday (TBA)
Lunch at Magic Kingdom on Friday
Daily shuttle transportation to the Outlets, Theme Park & Downtown Disney.

1- After 4pm Themepark Tickets to Magic Kingdom per person
Full day at Cocoa Beach on Saturday (Bring Swimwear, Blankets, & etc) You can purchase Umbrellas & Chairs once you get to the beach.
Project Youth T-shirt Per Person
*COMPLETE ITINERARY WILL BE GIVEN LATER*
*Package Prices w/ Transportation*
$1100 for a family of 2
$1350 for a family of 3
$1600 for a family of 4
*"Hotel Only" Package Prices w/ Transportation*
$900 for a family of 2
$1100 for a family of 3
$1400 for a family of 4
**ALL ROOMS HAVE 2 QUEEN SIZED BEDS**
*The room Only comes with 2 Beds so, If you have a Family of 5 or 6... you can bring sleeping bags but, you will have to pay for the Seat on the Bus and the Themepark Ticket(s).*
There will be Charge of $125 Per Person for the Seat on the Bus & $65 Per Person for Extra Themepark Ticket(s).
NO MORE THAN 6 PEOPLE PER ROOM!!!!!!!
Payment Schedule
$25 EARLY BIRD (Non-Refundable) DEPOSIT PER PERSON DUE (NOW- Sept 30, 2016)
$50 Per Person (Non-Refundable) Deposit due after Oct 1, 2016
$30 Monthly Payment Per Person due Monthly (Sept-March)
Remaining Balance, If any... Due by April 1, 2017
**IF YOUR FINAL BALANCE IS NOT PAID BY APRIL 1, 2017...
A $50 PER PERSON LATE FEE WILL BE ADDED TO YOUR BALANCE
**KIDS 2 & UNDER ARE FREE ON THE BUS(IF SEATED IN YOUR LAP) & THEY ARE FREE TO THE PARKS**
(1 PER ADULT)
*IF YOU WANT THEM TO HAVE THEIR OWN SEAT ON THE BUS, THERE WILL BE A CHARGE OF $125*
Resort Information
Buena Vista Best Western is located on the grounds of the Walt Disney World Resort. It is only footsteps away from Downtown Disney.
Hotel Address
Buena Vista Best Western Hotel
2000 Buena Vista Drive
Lake Buena Vista, FL 32830
If you have found this travel package after payments have began, you are still allowed to register as long as space is still available. After initial deposit is made, you should be prepared to bring your payments current within 30 days.

Policies, Payments & Fees
-All Deposits and Payments are NON-REFUNDABLE & NON-TRANSFERABLE due to Contractual Agreements
-Please register in the name shown on your government issued identification.

-It is best to pay your initial deposit as soon as possible to guarantee you are locked in at the current rates. Rates are subject to increase.

-Payment plans are allowed as a convenience. Failure to make payments as agreed will result in cancellation of your reservation and forfeiture of all monies paid.

-When initiating a booking within 60 days of departure, the total cost must be paid in full at the time of registration. Payment plans ARE NOT available for new bookings within 60 days of departure.

-Reservations for the occupancy selected are confirmed once initial deposits are received from ALL listed roommates.

-It is imperative to make sure your roommate's payments are made in a timely manner. It is not the responsibility of the agency to keep up with your roommate's payments. If your roommate does not make timely payments or decides not to attend, you will be required to pay a higher Occupancy Rate.

-Refunds WILL NOT be provided due to a roommate's cancellation.

-A $50 late fee will be imposed for all payments received after the final payment deadline.

-All correspondence regarding this trip is sent via email. Please provide an email address that is checked frequently.

-The agency reserves the right to use all client images or likeness in connection with still photography or recorded video. Attendance at any Budafly Travel event gives consent to be photographed for use in print or electronic publicity on social media sites.
Payment Methods Trip Website: www.projectyouth2017.eventbrite.com
Credit/Debit Cards are acceptable forms of payment. There is an additional fee charged for making payments via the trip site. These fees ARE NOT deducted from the cost of your trip.
Questions? Contact us at info@budaflytravel.com
LaNise (678)651-0156- Georgia (205 Youth Outreach Program)
Robena (662)574-3413 - Mississippi
Denise Hair (205)523-1445 Alabama (Dreamers Of Today's Society)