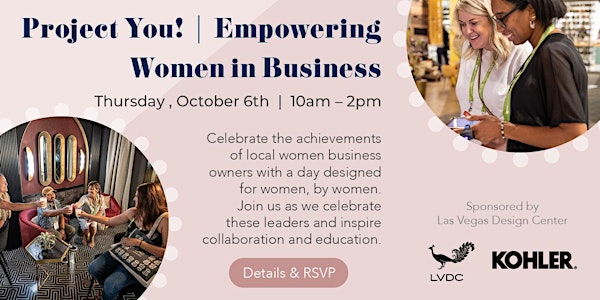 Project You! | Empowering Women in Business
Women Inspiring Women
When and where
Location
Las Vegas Design Center 495 South Grand Central Parkway Las Vegas, NV 89106
About this event
Women Inspiring Women
Project You! | Empowering Women in Business Thursday, October 6 | 10:00am – 2:00pm
When you invest in a woman, change happens. Because when a woman thrives, a family thrives, a community prospers, and together we create the foundations for a peaceful and prosperous future.
Project You! | Empowering Women in Business celebrates and promotes the achievements of women business owners in the community with a day designed for women, by women. Join LVDC as we celebrate women in business and inspire collaboration.
Meet local women-owned businesses from diverse industries. From photographers to jewelry makers, you will be introduced to a variety of products & skill sets.
Enjoy a delicious luncheon while hearing from top women business leaders. A panel discussion - Power of Presence, will cover a range of topics relating to uniting women-owned businesses, scaling your business, and how to thrive in business.
10:00 – 10:30 Check-in and registration
10:00 – 12:00 Explore & Discover Women-Owned Businesses
12:00 - 2:00 Luncheon & Panel Discussion
* benefitting the Shade Tree