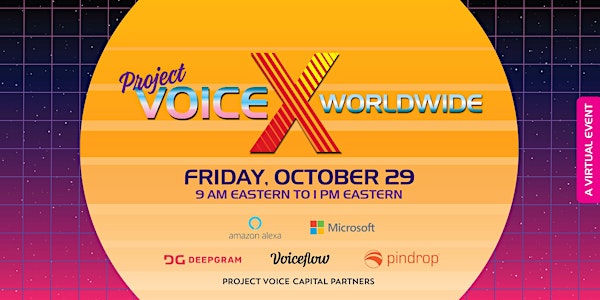 Project Voice X Worldwide
Project Voice X Worldwide
About this event
Project Voice X Worldwide brings together the global community of both buyers and sellers of voice technology and conversational AI.
Presented by Amazon and Microsoft.
Registrants receive audio and video of the conference proceedings to enjoy on demand once the event has concluded.
For more information on both the in-person Project Voice X, and the virtual Project Voice X Worldwide, visit www.ProjectVoice.ai.
AGENDA
[All times Eastern]
EU Hour from 8 AM Eastern to 9 AM Eastern: Spotlighting Voice/AI In Europe
8:10 AM VUI.Agency
8:20 AM DeepZen
8:30 AM Wanderword
8:40 AM Trinity Audio
8:50 AM CereProc
9:00 AM
Amazon Keynote
Jeff Blankenburg (Principal Technical Evangelist, Amazon Alexa)
9:20 AM
Deepgram
9:40 AM
Pindrop
10:00 AM
Project Voice Capital Partners
10:20 AM
Microsoft Keynote
Eric Egland (Conversational AI, Microsoft)
10:40 AM
SoundHound
10:50 AM
Connected Living
11:00 AM
Voicify
11:10 AM
Speechly
11:20 AM
ReadSpeaker
11:30 AM
Lenovo Keynote
11:50 AM
Google Keynote
12:10 PM
Sensory
12:20 PM
KomBea
12:30 PM
Cyrano
12:40 PM
Yobe
12:50 PM
Limor
1:00 PM
VoiceLab
1:10 PM
NLX
1:20 PM
Symbl
1:30 PM
Audiobrain
1:40 PM
Vital Group AI
1:50 PM
Open Voice Network
2:00 PM
Adjourn