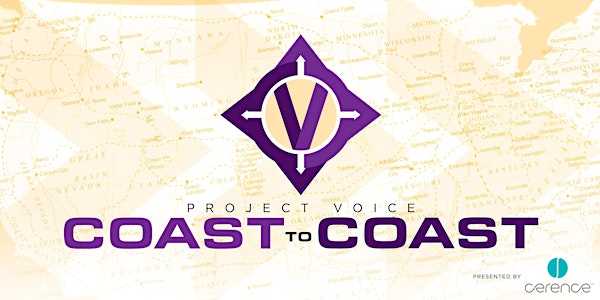 Project Voice: Coast to Coast [Nashville, March 12]
Project Voice: Coast to Coast [Nashville, March 12]
When and where
Location
The Pharmacy Burger Parlor & Beer Garden 731 Mcferrin Avenue Nashville, TN 37206
Refund Policy
Contact the organizer to request a refund.
About this event
Project Voice is the #1 event for voice tech and AI in America.
Project Voice: Coast to Coast is the roadshow bringing voice and AI knowledge and networking to 34 cities across the United States, leading up to Project Voice itself in April of 2021.
A brief, curated voice/AI program will accompany structured networking, so everyone in attendance can meet each other.
If you're working with voice tech or conversational AI now...
Or if you're looking for a job in the field...
Or if you just find the area of technology interesting...
This is the perfect opportunity for you to get out of the house, even if just for an hour, and meet a few people, form some new connections, and start to remember what it feels like to network and learn again.
Project Voice: Coast to Coast is presented by our friends at Cerence.
DETAILS
- each Project Voice: Coast to Coast will be limited to a MAXIMUM of 20 people in attendance- each will be held at an outdoor restaurant with outdoor heaters.
- Attendees can decide if they want to order their own food or drink while there - otherwise, this is just for networking- the venue is subject to change up to 24 hours before - check back on this Eventbrite site the day of just to make sure there has not been any change to the location
- the curated program for each Project Voice: Coast to Coast date will be no longer than 15-20 minutes
- the remainder of the time will feature everyone in attendance introducing themselves and stating why they're attending, and what they're looking to accomplish in the realm of voice/AI. Afterward, the rest of the time is for networking.
- dress code: whatever you feel like wearing! We want you to be comfortable. We're all re-learning what it's like to convene in person, so don't stress it.
- masks + social distancing are required, though this (and all other dates) will be outdoors
The full schedule for Project Voice: Coast to Coast:
Monday, January 11: San Jose, CA
Tuesday, January 12: San Francisco, CA
Wednesday, January 13: Los Angeles, CA
Thursday: January 14: Phoenix, AZ
Monday, January 18: Miami, FL
Tuesday, January 19: Tampa, FL
Wednesday, January 20: Orlando, FL
Thursday, January 21: Jacksonville, FL
Monday, January 25: Portland, OR
Tuesday, January 26: Seattle, WA
Wednesday, January 27: Spokane, WA
Thursday, January 28: Boise, ID
Monday, February 8: Salt Lake City, UT
Tuesday, February 9: Denver, CO
Wednesday, February 10: Cheyenne, WY
Thursday, February 11: Omaha, NE
Monday, February 22: Boston, MA
Tuesday, February 23: New York City, NY
Wednesday, February 24: Newark, NJ
Thursday, February 25: Philadelphia, PA
Friday, February 26: Washington, DC
Monday, March 8: Minneapolis, MN
Tuesday, March 9: Milwaukee, WI
Wednesday, March 10: Chicago, IL
Thursday, March 11: St. Louis, MO
Friday, March 12: Nashville, TN
Monday, March 15: Memphis, TN
Tuesday, March 16: Jackson, MS
Wednesday, March 17: New Orleans, LA
Thursday, March 18: Dallas, TX
Friday, March 19: Houston, TX
Monday, March 29: Detroit, MI
Tuesday, March 30: Columbus, OH
Wednesday, March 31: Cleveland, OH
Thursday, April 1: Cincinnati, OH