Project TEAM is pleased to present this year's Completion Ceremony as an In-Person event! Each student will be allotted 4 tickets.
About this event
This year we are thrilled to be able to offer an in-person ceremony! There are some guidelines from the California Department of Public Health that must be followed to ensure a safe and successful ceremony.
1) All attendees must wear a mask or face covering for the duration of the event.
2) Attendees must sign up in advance of the graduation, and only those who have preregistered may attend.
3) All attendees and participants will be screened with a temperature check prior to being seated at the event.
4) Attendees who are not part of the same household must be seated at least 6 feet apart. Members of the same household are permitted to sit together and less than 6 feet apart.
In addition, as parking space is limited, we ask that you arrive in the same vehicle as the household members that you wish to be seated with. This will ensure we are able to screen and seat all attendees in a timely manner. All household members must arrive in the same vehicle if they wish to be seated together.
We will also ask that you kindly remain seated and do not move around the viewing area. Banners and balloons will not be permitted in an effort to ensure that all attendees are able to have an unobstructed view of the stage.
Upon conclusion of the ceremony, we ask that there be no lingering on site as staff will begin clearing the area immediatly.
We appreicate your patience and look forward to celebrating the accomplishments of our 2021 Project TEAM Completers! Please contact the Project TEAM with any questions at (951) 328-2522.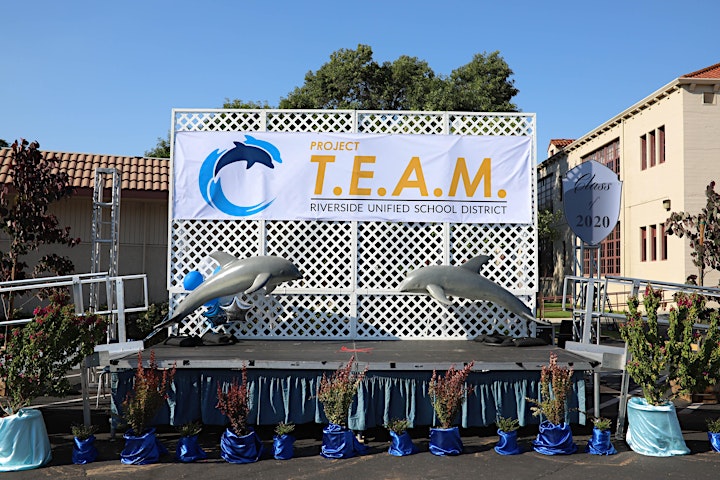 **Image is for reference from the 2020 Drive Through Ceremony but the stage will be similar in design.**
Organizer of Project TEAM Completion Ceremony