Welcome to Project Ramadan's Launch event. Enjoy an evening of entertainment with your loved ones. This will be a night you will not forget!
About this Event
Project Ramadan's mission is simple: we fundraise, assemble, and distribute baskets containing staple food items to families faced with food insecurity. Our goal is to help limit the number of families that are experiencing food scarcity by providing them staple food items that should last them approximately one month. Project Ramadan is an initiative dedicated to combating food insecurity across Ontario regardless of race, religion, or ethnicity.
Please join us to kick off the 2021 Project Ramadan Campaign as we celebrate Hope, Resilience & Community with our very first virtual fundraiser. *Only one Virtual ticket purchase required per household*
Through these unprecedented times Hope, Resilience and Community have kept us all hanging on. As Ramadan approaches, we are truly blessed that we are still able to virtually connect.
We have brought together an array of talent from across the globe which include Ustadha Yasmin Mogahed, Hoodoo Hersi & Khalid Siddiq, hosted by the one and only Mark "Strizzzy" Strong, the in-arena host of the Toronto Raptors.
We have also partnered up with Halal Meals Toronto to bring you that "fundraising" dinner experience in the comfort of your own home. We have got you covered with a menu consisting of Beef Biryani, Chicken Alfredo Pasta and a South Western Rice Bowl for our plant-based friends...
This year with raising food prices, the cost of a basket to help a family for approximately 1-month is $60.00. We want you to know that proceeds from this event will be used to help support families in need!
Get your tickets before they're gone! We can't wait to see you!
About Our Special Guests:
Yasmin Mogahed:
Yasmin Mogahed has just launched YMTV, her new online TV channel, and has authored two books: Love and Happiness and Reclaim Your Heart, which have both received international acclaim and are available for purchase on Amazon. Yasmin is currently an instructor for AlMaghrib Institute, and Al-Buruj Press, is a writer for the Huffington Post, an international speaker, and an invited lecturer at Oxford, Harvard, Yale, Stanford, and many other universities around the world. She received her B.S. Degree in Psychology and her Masters in Journalism and Mass Communications from the University of Wisconsin-Madison. After completing her graduate work, she taught Islamic Studies and got heavily involved in community youth work. Yasmin is currently working on a new book, which should be released in 2021, insha Allah. Follow Yasmin online for more of her writings and lectures.
Hoodo Hersi:
Hoodo Hersi is a Toronto-based Somali Canadian comedian recently selected as a New Face: Canada at the Just For Laughs Festival in Montreal, where her performance aired on the Comedy Network. She has performed in clubs and festivals all over Canada and the United States, including the Winnipeg Comedy Festival and the BBC World Service Montreal Comedy Show where both of her performances will air on the CBC. In 2018, she was selected as an Audible New Voice at SF Sketchfest, and performed with Hasan Minhaj, Lil Rel Howery, Chris Redd, Gina Yashere, Moshe Kasher, and Maria Bamford among others.
Khaled Siddiq:
Khaled Siddiq, born in 1992 in Leicester, UK, was born to two convert parents. In his late teens, he was involved in the mainstream music industry and was on the verge of signing to British record labels. But Allah had different plans for him. At age 19, he fully embraced his faith, Islam, and has never turned back. In July 2015, he started a Youtube channel, in which he could express himself and his abilities as an artist. Since then he has accumulated over 270,000 Youtube subscribers, 40 million+ views and tours the world. Today, Khaled Siddiq is one of the most recognized Muslim artists across the globe. He combines an array of skills into his portfolio making him one of the most diverse and talented Muslims today. A proud Muslim of Jamaican, Irish & Scottish heritage, he believes that providing others with ethical entertainment and dispelling stereotypes about his faith has always been his calling.
** Purchase of meals as add-on includes delivery within GTA (Toronto, Scarborough, Etobicoke), York Region (Vaughan, Markham, Richmond Hill), Peel Region (Mississauga, Milton, Oakville, Brampton) and Durham Region (Pickering, Ajax, Whitby) only **
These meals will be hand-delivered by our wonderful Project Ramadan Volunteers. Due to this, unfortunately, we are unable to accommodate delivery requests outside of these areas.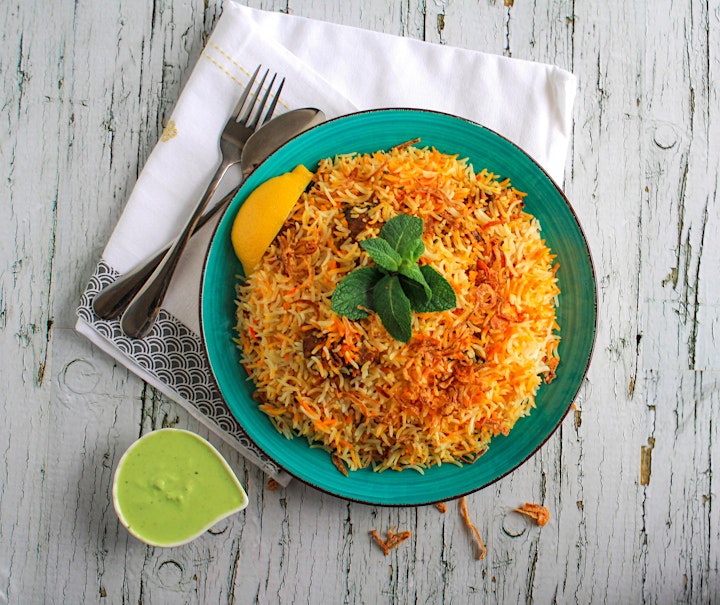 Beef Biryani
Tender pieces of boneless beef and potatoes cooked in a fragrant rice and aromatic spices served with mint raita.
Ingredients: Beef, Basmati rice, Potatoes, Yogurt, Onions, Parsley, Cilantro, Tomatoes, Canola Oil, Ginger, Garlic, Mint, Spices (Cumin, Turmeric, Cinnamon, Cardamom, Chili Powder, Garam Masala)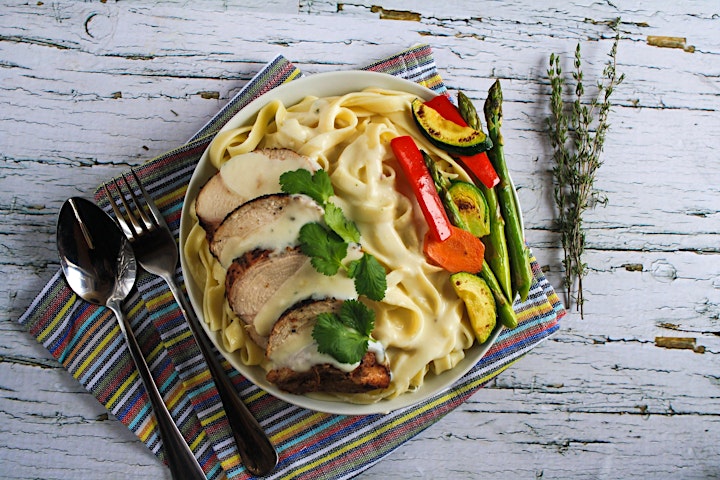 Chicken Alfredo Pasta
Boneless chicken and fettuccine pasta cooked in a delicious creamy alfredo sauce served with sautéed veggies.
Ingredients: Fettuccine, heavy cream, mozzarella cheese, parmesan cheese, broccoli, chicken breast, garlic, butter.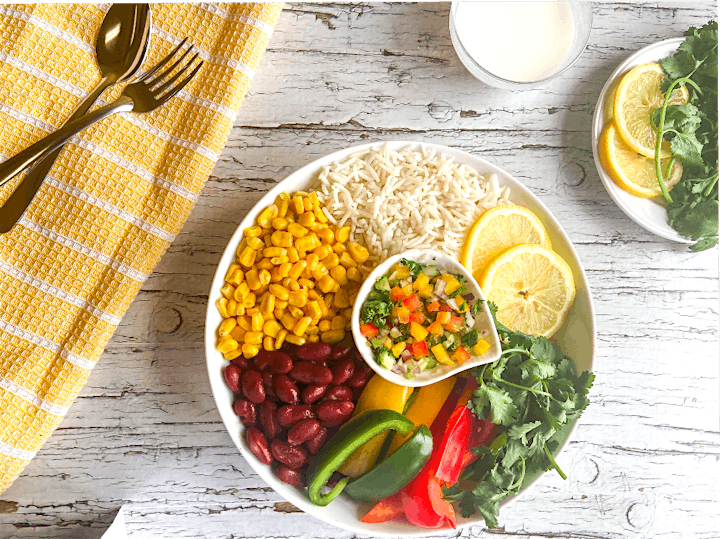 Southwestern Rice Bowl (Vegetarian option)
Filled with rice, bell peppers, corn, black beans, and a mixture of spices, this zesty dish is absolutely scrumptious.
Ingredients: Grilled corn, pico de gallo, grilled peppers, white rice, cilantro, black beans, Salt pepper and Lemon.
We would also like to thank our generous sponsor, Healthy Planet, for making this event possible!