Description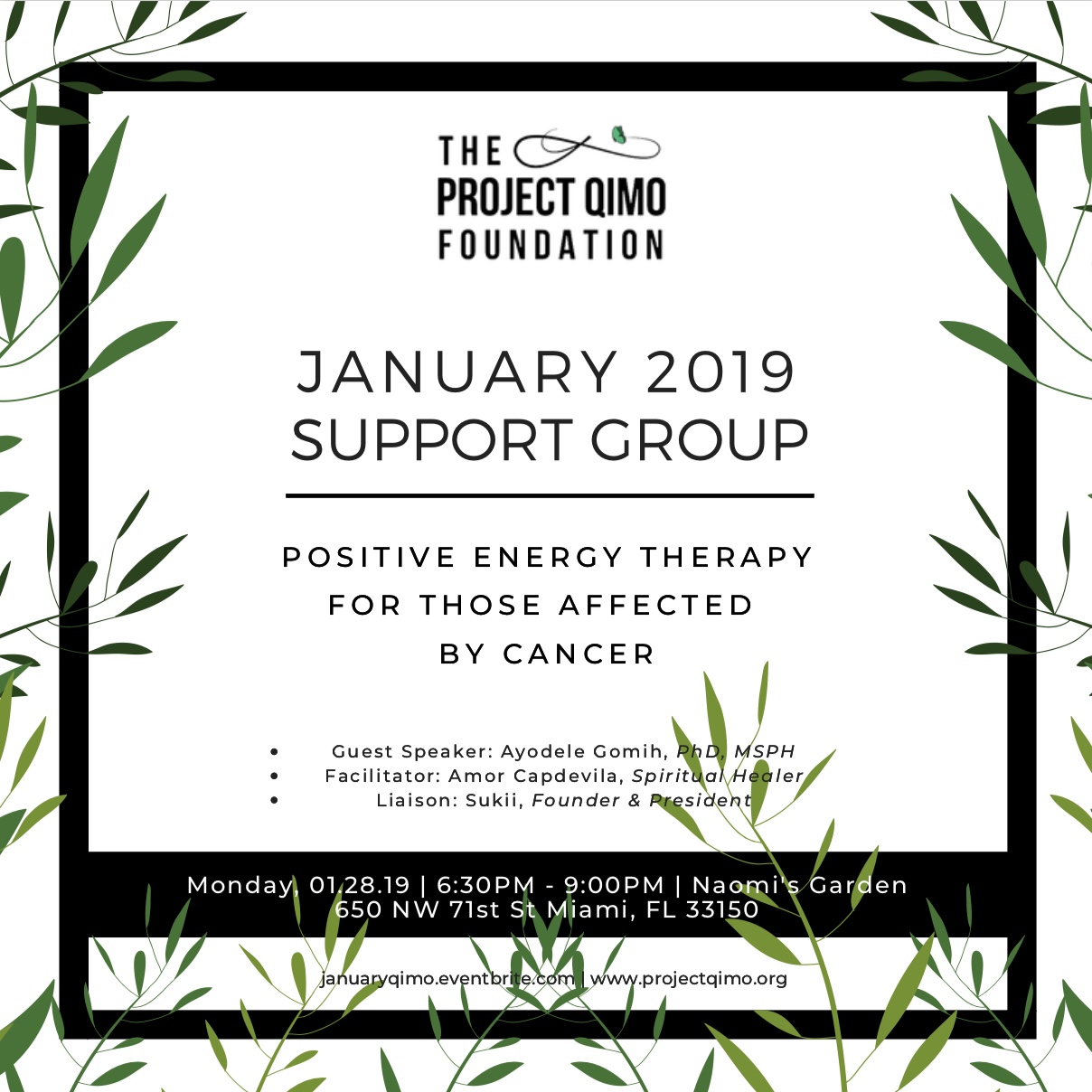 Join us for a special night and our inaugural event as we kick off our monthly support group series.
We are honored to have Ayodele Gomih, Phd, MSPH as our guest speaker, Spiritual Healer Amor Capdevila as our facilitator, and our Founder & President Sukii as Liaison & discussion lead.
Check in 6:30pm
Presentation + Group start promptly at 7:00pm.
The Project Qimo Foundation seeks to serve as a medium to reach people affected directly and indirectly by cancer. It is our mission to aid persons and provide alternative healing practices otherwise not ventured.
Project Qimo will explore the ways in which we all have power to heal through alternative & integrative forms of therapy. Providing different avenues of meditative, spiritual and positive energy therapies not readily available through 'modern' medicine treatments.
Why Qi-Mo-Therapy?
("Qimo" noun pronounced /CHē-Mōh/ = Positive energy therapy for those affected by cancer.)

Qi (Chi) is a verb derived from traditional Chinese medicine, meaning vital energy. This can be as tangible as water in a lake or as non-tangible as sound waves. Qi is a full range spectrum between materialism and idealism, a state of continuity, birth to death. As defined by Giovanni Maciocia "Qi is an energy which manifests simultaneously on the physical and emotional-mental-spiritual level". Qi is life!
Read more about our story here and IF YOU HAVE BEEN AFFECTED BY CANCER & ARE SEEKING LOVE & SUPPORT we hope to see you there!
any questions? projectqimo@gmail.com