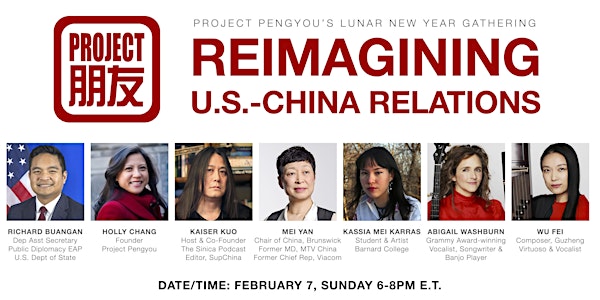 Project Pengyou Lunar New Year Gathering 2021
REIMAGINING U.S.-CHINA RELATIONS - A Project Pengyou Lunar New Year Gathering 2021
Refund Policy
Contact the organizer to request a refund.
Eventbrite's fee is nonrefundable.
About this event
Pengyou means "friend" in Mandarin Chinese.
In celebration of Lunar New Year 2021, Project Pengyou is excited to present this rare online event to highlight unique voices from our beloved community. Join us from the comfort of your home to hear from prominent and diverse speakers from Beijing to Nashville that will reflect on and reimagine the world's most consequential bilateral relationship.
EVENT AGENDA (Feb 7, Sunday 6-8PM Eastern Time):
Welcome Remarks | Holly Chang, Founder, Project Pengyou
Perspectives on U.S.-China Policy & Diplomacy (Off Record) | Richard Buangan, Deputy Assistant Secretary, U.S. Department of State
The Evolution of U.S.-China Technology and Innovation | Kaiser Kuo, Host & Co-Founder, The Sinica Podcast
Pengyou Legacies - A Fireside Chat with Yan and Kassia | Mei Yan, Chair of Brunswick China; former MD of MTV China, & Kassia Mei Karras, Student at Barnard College of Columbia University
A Musical Dialogue with Wu Fei and Abigail Washburn | Wu Fei, Genre-bending Composer, Guzheng Virtuoso & Vocalist, & Abigail Washburn, Grammy Award-winning Vocalist, Songwriter & Clawhammer Banjo Player
______________________
SPEAKER BIOS:
RICHARD BUANGAN, Deputy Assistant Secretary for the Office of Public Affairs and Public Diplomacy Bureau of East Asian and Pacific Affairs, U.S. Department of State
Richard Buangan is a public diplomacy-coned career member of the Senior Foreign Service, Class of Counselor, who joined the Department of State in 1999. Most recently, Richard served as Executive Assistant to Secretary of State Michael R. Pompeo and served several assignments in the Bureau of Public Affairs, including Managing Director for International Media and Director of the Office of Digital Engagement. Richard has also worked on the Secretariat Staff and holds numerous State Department awards and honors. His overseas assignments include Jerusalem, Beijing, Paris, and Abidjan. Born and raised in San Diego, California, Richard holds a Bachelor of Arts in Political Science and Economics from St. Edward's University in Austin, Texas, and speaks French, Spanish, and Mandarin Chinese.
HOLLY CHANG, Founder, Project Pengyou
Holly Chang is a social entrepreneur who has served for over a decade as a U.S.-China bridge for numerous philanthropic, business, and governmental institutions. In 2009, Holly co-led the first "China Youth Delegation" and initiated U.S.-China Youth Climate Forums at U.N. Climate Conferences. In 2010 she served on a taskforce to launch the China Foundation Center, a philanthropy data resource in China modeling the U.S. Foundation Center. Later that year, Holly facilitated the China Youth Climate Action Network and the U.S. nonprofit 350.org to organize 300 simultaneous events across China.
In 2011, Holly launched "Project Pengyou", a public-private partnership with the State Department, establishing a national youth leadership network supporting the President's 100,000 Strong Initiative and trained over 200 youth in "Leading Change". From 2014 to 2018, Holly served as Executive Director of the Committee of 100, a prominent network of Chinese American leaders who seek to advance U.S.-China relations. Currently, Holly is creating the "Awakened NextGen" program to support leaders who seek a deeper and more spiritually aligned purpose on their path as changemakers.
KAISER KUO, Host & Co-Founder, The Sinica Podcast; Editor-at-Large, SupChina.com
Kaiser Kuo is a writer, musician and editor-at-large of the New York-based, China-focused news, information and business services platform SupChina, and is a co-founder of China current affairs podcast Sinica. The Sinica Podcast, founded in 2010, is a weekly discussion of current affairs in China that Kaiser Kuo co-hosts with Jeremy Goldkorn. He is also a former member of Chinese rock band, Tang Dynasty.
MEI YAN, Chair of China, Brunswick; Former MD, MTV China; Former Chief Rep for Asia, Viacom
After a distinguished career serving major international media companies for more than twenty years, Mei Yan (last name Mei, first name Yan) joined Brunswick Group in 2013. As Senior Partner and Chair of China, she oversees Brunswick's China business and provides counsel to senior executives of foreign companies as they position their organizations in China and Chinese companies going global.
Yan joined Brunswick from Viacom International Media Networks, where she was Managing Director of Greater China and Chief Representative of Viacom Asia. Previously, Yan held a series of China-based senior positions at Turner International Asia Pacific, News Corp., and its STAR Group. Yan worked as a journalist for ITN and CNN for more than a decade, winning three Emmy Awards in that time.
In addition to her role at Brunswick, she also serves as Vice-Chair of the board of The Golden Bridges Foundation (which houses Project Pengyou) and the China Women's Club. Born in Beijing, Yan holds two Master's degrees in International Relations and Political Science from Columbia University, New York, and a Master in Advanced Russian Area Studies from Hunter College at the City University of New York. She also holds a Bachelor of Arts degree in Russian Language and Literature from Beijing Normal University.
KASSIA MEI KARRAS, Daughter of Mei Yan; Student, Barnard College of Columbia University
Kassia Mei Karras was born in the United States, raised in China, and is currently living in New York City studying Design and Architecture at Barnard College of Columbia University. She is an extraordinary multi-cultural, multi-lingual problem-solver, artist, and creator of okfuncreative.com. In 2016, Kassia served as one of the youngest Project Pengyou Leadership Fellows, receiving leadership training at Harvard University, after which she launched a Project Pengyou chapter at Northview High School in Greater Atlanta, GA.
ABIGAIL WASHBURN, Grammy Award-winning Vocalist, Songwriter & Clawhammer Banjo Player
A Mandarin Chinese speaker, Abigail Washburn regularly toured China for 20 years, including a month-long tour of China's Silk Road supported by grants from the US Embassy, Beijing. Abigail's musical projects range from her string band, Uncle Earl, to her bilingual releases Song of the Traveling Daughter (2005) & City of Refuge (2011), to the mind-bending "chamber roots" sound of the Sparrow Quartet (featuring Béla Fleck, Casey Driessen and Ben Sollee), to Afterquake, her fundraiser CD for Sichuan earthquake victims. Her first record with her husband, Béla Fleck, won a 2016 Grammy for Best Folk Album.
Abigail is a TED Fellow and gave a talk at the 2012 TED Convention in Long Beach titled "Building US-China Relations...by Banjo" where she spoke about her true story of shifting from a future in law to a pursuit of musical bridging. NPR voted Abigail's 2012 commencement speech at her alma mater, Colorado College, as one of the best 300 in US history. In March of 2013, she was commissioned by New York Voices and the NY Public Theater to write and debut a theatrical work, Post-American Girl, which drew from her then 17-year relationship with China and addressed themes of expanding identity, cultural relativism, pilgrimage, and the universal appeal of music. Abigail is also the first US-China Fellow at Vanderbilt University.
WU FEI, Genre-bending Composer, Guzheng Virtuoso & Vocalist
Wu Fei is a classically trained composer, a renowned master of the guzheng — the 21-string Chinese zither – and a vocalist. She has taken her music around the world, appearing at such venues as the Forbidden City Concert Hall in Beijing, Shanghai's Expo 2010, New York's MoMA, North Sea Jazz Festival in the Netherlands, Vossa Jazz in Norway, the Europalia Festival in Belgium, and the Big Ears Festival in Tennessee. Wu plays in the guzheng's vernacular — a musical language at least 2,000 years old – mixing Western classical and Chinese traditions with a contemporary, idiosyncratic sound.
Currently she is composer-in-residence for the Chatterbird Ensemble. In addition to her original compositions, Wu has collaborated with many artists from different disciplines and genres, ranging from Béla Fleck, Abigail Washburn and Billy Martin (Medeski-Martin-Wood) to avant-garde composers John Zorn and Fred Frith. She has released two solo recordings and one collaborative album with classical guitarist Gyan Riley. She received her early music education at the China Conservatory of Music and earned her master's at Mills College before immersing herself in the New York downtown improvisation scene at venues like The Stone, where she has frequently performed and curated. Wu is a native of Beijing and a current resident of Nashville.
Wu Fei and Abigail Washburn recently launched a self-titled record together which sonically blends traditional Chinese and Appalachian folk tunes (Smithsonian Folkways 2020).
______________________
EVENT & REUNION COMMITTEE
Holly Chang, Project Pengyou Founder
Alyssa Farrelly, PP Advisor, Former Executive Director
Devin Nickell, PP Advisor, Former Program Director
Helen Huang, PP Advisor, Former Community Engagement Manager
Leslie Martinez, Project Pengyou Executive Committee, PPLF Fall 2014
Tammy Tian, Project Pengyou Executive Committee, PPLF Fall 2014
EJ Mitchell, Project Pengyou Executive Committee, PPLF Spring 2014
Michele Reyes, Project Pengyou Executive Committee, PPLF Spring 2014
Anisa Knox, Project Pengyou Executive Committee, PPLF Fall 2014
Brian S. Lee, Project Pengyou Executive Committee, PPLF Fall 2014
Emily Geske, Project Pengyou Executive Committee, PPLF Fall 2017
Jamie Lui, Project Pengyou Executive Committee, PPLF Fall 2017
Meredith Garrison, Project Pengyou Executive Committee, PPLF Spring 2014
Azuraye Wycoff, Project Pengyou Executive Committee, PPLF Fall 2014
Jianyin Roachell, Project Pengyou Executive Committee, PPLF Fall 2014
Samara Schuman, Project Pengyou Executive Committee, PPLF Fall 2017