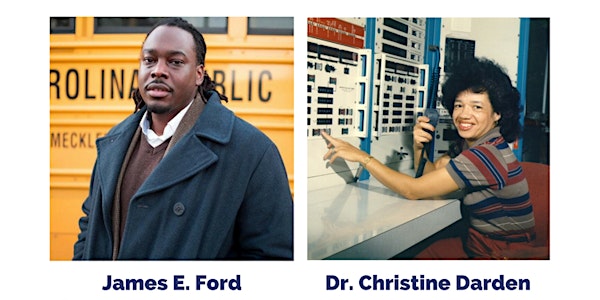 Project One Power Of One Fundraiser
When and where
Location
Noah's Event Venue 2421 Yorkmont Road Charlotte, NC 28217
Description
March 22: NASA Engineer Dr. Christine Darden
And Educator James E. Ford Celebrate The Power Of One
Each year, select high-achieving Charlotte-area high school seniors from low-income, single-parent families are able to attend college thanks to Project One Scholarship Fund (POSF). Once a year, POSF asks for support from individuals and the community to make that dream come true. The seventh annual "Power of One" fundraiser is on Thursday, March 22 from 6:30 to 8:30 p.m. at Noah's Event Venue, 2421 Yorkmont Rd., in Charlotte.
There is no fee to attend, and the "suggested donation is whatever an individual feels comfortable donating," said Neal Emmons, POSF founder. Last year's fundraiser took in more than $100,000.
Tickets are free, but advance registration is required.
Dr. Christine Darden – NASA engineer and Union County native – and James E. Ford, co-chair of Leading On Opportunity Task Force, are this year's special guest speakers. "Both fit our theme – The Power of One," Emmons said. "We like to highlight the impact a single individual can have on the world."
Few people knew about NASA's black female mathematicians before the 2016 movie "Hidden Figures." The film tells the story of these previously unsung heroines who worked at NASA during the Space Race years.
Darden worked in data processing at NASA's Langley Research Center. "But Darden wanted to do more than process the data," according to NASA's website. "She wanted to create it."

"After wading through daily calculations for eight years, Darden … approached her supervisor to ask why men, with the same educational background (M.S. in applied mathematics), were being hired in as engineers. Stooped by her question and impressed by her skills, her supervisor transferred her to engineering," where she began a 25-year career of working on sonic boom minimization.
Darden pursued a field dominated by men. Ford, who started teaching history at Garinger High in 2010, chose a field where more men are needed.
And he made a huge difference. Ford was 2014-15 North Carolina Teacher of the Year. He's the former program director at the Public School Forum of North Carolina, an education think tank/policy advocacy organization.

Ford is currently pursuing his Ph.D. at UNC-Charlotte in urban education. He calls himself an "equity warrior" who believes education is a human right.
WLNK's Ramona Holloway – from a single-parent home herself – is the event's emcee. Holloway is half of the popular "Matt and Ramona Show" on 107.9 The Link.
Launched in 2009, Project One offers scholarships to students who are Mecklenburg County residents planning to attend a N.C. state-supported college or university. Recipients must have a GPA of 3.0 or above, demonstrate initiative and have a family whose income is at or below 200 percent of poverty rate. The student is required to apply for Free Application for Federal Student Aid (FAFSA).