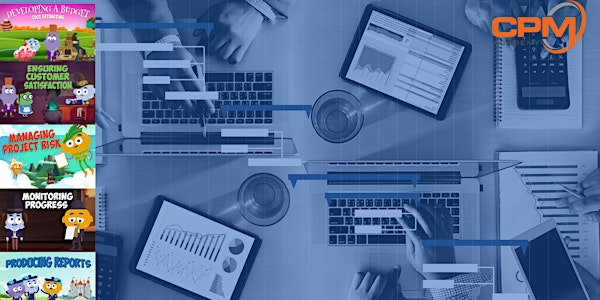 Project Management Applied 2 - Bundle of 5 Courses
Online Course. Study at your own pace. Bundle of 5 Courses.
About this event
365 days 9 hours

Mobile eTicket
CPM Academy and TalentLMS bring 100% Online Courses for your professional development. Receive a Certificate of Completion from CPM Academy after each course.
This Bundle includes the following 5 Courses:
Developing a Budget (Cost Estimating)
Stakeholders want to see every cent accounted for before they give their approval. Whether that's in direct or indirect costs, or part of a risk contingency plan. But how can you plan for unknown costs and risks? This course is designed to show you how to deliver a thorough and accurate budget for your project.
By the end of this course, you'll be able to:
Recognize the importance of a project budget
Choose the estimation system that's right for you
Describe the steps to building a comprehensive budget for your project
Ensuring Customer Satisfaction
By planning for positive customer experiences and putting ways of dealing with potential issues in place, you're building a project with a plan to ensure all your customers leave feeling satisfied.
By the end of this course, you will be able to:
Manage customer expectations
Recognize the importance of great product delivery
Describe great after-care techniques
Managing Project Risk
When you manage project risk, and measure the likelihood and impact of possible outcomes, you can find out which risks are really worth taking. Learning to track risks, and monitoring the solutions put in place to counter them, will help you and your team make effective decisions.
By the end of this course, you'll be able to:
Create and assess a risk register
Determine the likelihood and impact of risks
Outline the benefits of regular reviews of risk
Monitoring Progress
Monitoring the progress of your project will help you keep track of how far you've come, how close you are to achieving your goals, and whether you need to redistribute resources to keep things on track.
By the end of this course, you'll be able to:
Recognize the benefits of monitoring your project's progress
Explain the use of data in monitoring and improving your project
Evaluate data to extract meaningful information
Producing Reports
Using concise and informative reports to keep tabs on everything that's going on with your project, will help you and project stakeholders see exactly how a project is progressing. And by learning to use those reports to aid decision-making, you might even get ahead.
By the end of this course, you will be able to:
Select the right type of report for your project aims
Explain how to write effective reports
Use reports to make informed decisions