Project Literacy Lab: Investor Gathering

Friday, July 15, 2016 from 12:30 PM to 8:30 PM (PDT)
Event Details
Find more information on the Project Literacy Lab please visit - www.projectliteracylab.com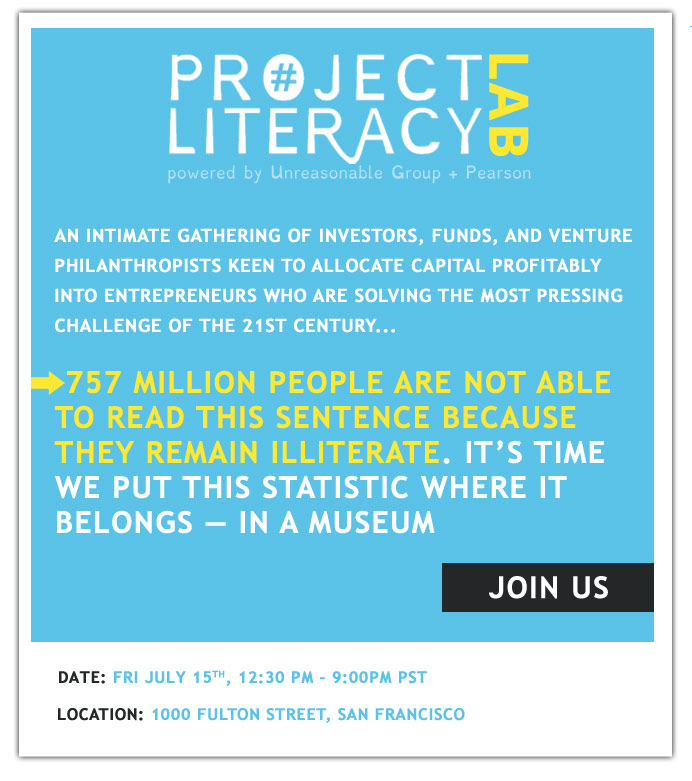 What is this?
Join us for a small convening of 45 investors, venture capital funds, family offices, and foundations. Together, Pearson, the world's leading learning company, and Unreasonable Group, have partnered to launch the Project Literacy Lab – the world's first international partnership focused on supporting rapid growth ventures that are positioned to close the global literacy gap by 2030. This is the investor gathering designed around the accelerator program to unite a cohort of investors and philanthropists hungry to allocate their capital into high-growth ventures impacting millions of lives profitably. The deal flow will be remarkable and the conversations irreplicable. We hope you will join us. 
What types of deals will we be looking at?
You will gain intimate access to the 16 ventures selected to participate in the inagurual Project Literacy Lab. WARNING: These are not your typical Silicon Valley startups. These companies operate in over 30 countries and averaged over $5 million in financing to date. These are the true "black swans" of our time: startups who have significant market traction, are working in the fastest emerging markets of our time, and are positioned to ensure universal literacy. The company line-up includes the world's first customizable machine learning technology platform for the 1 billion people around the world with disabilities, a company that decreases recidivism by providing the 2.25 million incarcerated adults in the United States with daily access to educational and vocational programming via tablets, an artifial intelligence company out of MIT working on the fringes of personalized education, and the fastest growing mobile app for Indian teachers that's already led to 86% improvement in student outcomes. To read about each of the 16 ventures, click here. 
Where do the proceeds from my ticket go?  
All ticket proceeds will go towards offsetting the costs of the investor gathering itself.
I  already have plans on Friday July 15... should I cancel them?
Yes ;-).
Why literacy? 
Today, over 750 million people lack basic reading and writing skills - including 32 million adults in the United States. And yet since 2000, progress on literacy has stalled and in some parts of Sub-Saharan Africa has even declined. Something needs to change. With one out of every ten people on this planet locked out of the opportunities that literacy can bring to improve their lives and livelihoods, progress requires all of us to be part of the solution.
Pearson convened the global campaign Project Literacy in the belief that now more than ever, tackling illiteracy should be on everyone's agenda, and that it is only through cross-sector action that we can accelerate progress on sustainable development and put our global community on a path of economic, environmental and social prosperity. Pearson and Unreasonable both believe illiteracy is the key issue underpinning the problems of people all over the world. Still not convinced? Watch this video.
What about food and drinks?  
Though lunch will not be served, snacks, drinks, and heavy appitizers will be provided throughout the entirety of the day and into the evening. 
If I need to leave early, can I?
Of course. The main program, other than the reception, ends at 7pm. From 7pm - 9pm we will host a followup reception. We hope you can join but if you need to leave at 7pm for other plans, we'll understand. 
We are also honored to be hosting a performance by Christen Lien
Christen Lien's provocative compositions, hypnotic performance style, and entrepreneurial business approach all reflect her passion for challenging the status quo. Through her art she seeks to support her fans to process the complex and oftentimes dark emotions that oppress individual potential and hold back collective power. Entertainers, activists, scholars and entrepreneurial leaders have responded enthusiastically to Christen's work and she is often invited to present her music, story and ideas to events and productions looking to compliment narratives of determination and fortitude. This fall she will release her new project, ELPIS, a 12-track instrumental album with accompanying visual artwork and written storytelling that explores the dark side of Hope. You can find more information about her work at itsnotaviolin.com
When & Where

The Factory
1000 Fulton Street
San Francisco, CA 94117


Friday, July 15, 2016 from 12:30 PM to 8:30 PM (PDT)
Add to my calendar
Organizer
Project Literacy Lab
Pearson and Unreasonable Group share a belief that entrepreneurs are best positioned to come up with the new models and breakthrough technologies needed to close the global literacy gap. This is where Project Literacy Lab comes into focus. As part of the Project Literacy campaign, Pearson and Unreasonable have co-founded a new initiative to wrap resources around the fastest growing ventures worldwide – each uniquely positioned to solve key challenges tied to illiteracy.
Project Literacy Lab: Investor Gathering