Project JFK / CSI Dallas Presents The Journey Spotlight Series Bill Simpich
Project JFK / CSI Dallas Presents The Journey Spotlight Series featuring special guest Bill Simpich
About this event
Project JFK / CSI Dallas presents The Journey On the trail of truth in The JFK Assassination - Spotlight Series featuring special guest Bill Simpich. This will be a virtual event hosted on Zoom.
Bill Simpich's topics that he will be discussing are as follows:
1. Some of the high points in State Secret - the possible "Mexico City solution" to the use of Oswald in Mexico City; the role of Bill Harvey and Staff D in signals intelligence (SIGINT) and the crown jewels of American government; and how the ability to wiretap and conduct surveillance is tied to the killing of JFK and the coverup).
2. Some of the high points in The Twelve Who Built the Oswald Legend - how LHO was set up to lose his military benefits; why I think Mary Bancroft was informing on Michael Paine to Allen Dulles in the days after 11/22; and the possible role of the 11/9/63 letter to the Soviet Embassy written on Ruth Paines' typewriter, and more).
3. The role of the Mary Ferrell Foundation in deciphering the cryptonyms and pseudonyms in the CIA memos, and some of the most fascinating finds that will hopefully become the subjects of articles, books and movies by other researchers.
4. The swamp of disinformation created by people such as Lt. George Butler of the Dallas police and SA Robert Barrett of the FBI. Specifically, the assassination of Oswald, the role of Lieutenant George Butler, the fascist network that emanated around Butler, and Butler's role as an agent of disinformation around the JFK case and Oswald in particular. Similarly, the assassination of Tippit, the network that emanated around that event (Lt. Westbrook, Sgt. Gerry Hill, Officer Kenneth Croy, and senior Dallas FBI agent Robert Barrett), and Barrett's disinformation that has shrouded the death of Tippit.
5. The 2015 article I wrote about the evidence found at the assassination (the rifle, the revolver, the shells, the wallet(s), etc.), how the Warren Commission covered it up - and why the case against Oswald is so weak that a judge probably wouldn't have let the case go to a jury.
6. How many members of the Special Service Bureau (intelligence, narcotics, organized crime) within the Dallas Police Department were cross-designated with Army Intelligence, and also housed the local Red Squad that hunted local Communists such as Bill Lowery and suspected subversives such as TSBD employee Joseph Medina.
Event Details:
Wednesday August 4th, 2021
Start Time 6:00 PM (CST)
End Time 9:00 PM (CST)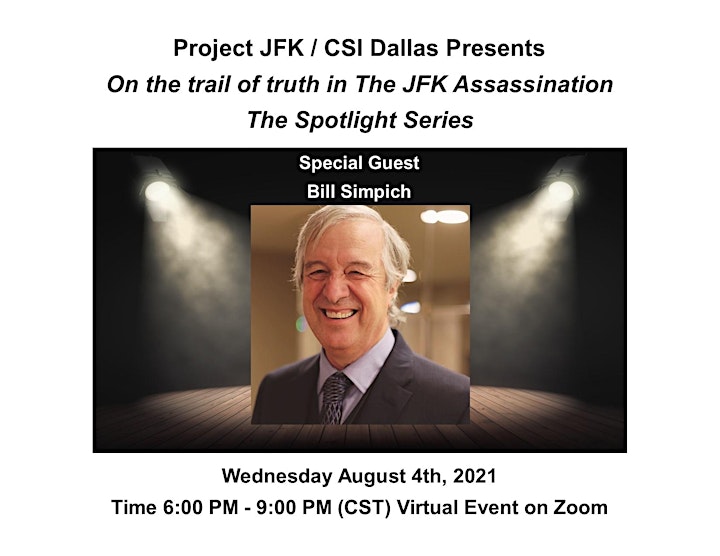 Organizer of Project JFK / CSI Dallas Presents The Journey Spotlight Series Bill Simpich