About this Event
Godfrey & Kahn attorneys John McDonald and Jay Creagh will discuss common issues for founders, including choice of entity, employee compensation and cap tables. They will also walk through the legal issues an entrepreneur should consider as they start a company, whether to raise or borrow money and how to build out their team.
Event Outline:
7:30 - 8 a.m.: Coffee, bagels and networking
8 - 9 a.m.: Classroom session and Q&A
Who is Godfrey & Kahn?
Our firm was founded on a simple idea - judge our success by the success of our clients. We serve clients by first understanding their business and their needs, and then by offering strategic legal advice and smart, practical solutions to real world problems.
What is Project Innovate?
Project Innovate is an initiative of Godfrey & Kahn's Emerging Companies Practice Group that works to bring together Milwaukee entrepreneurs, investors and representatives of innovative companies to help build successful businesses.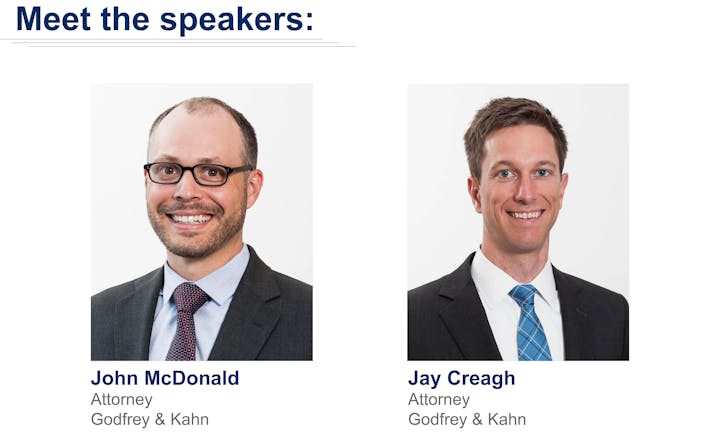 John McDonald is a shareholder in Godfrey & Kahn's Corporate Law and Technology & Digital Business Practice Groups, and co-chair of the Emerging Companies Practice Group. He is a member of the firm's Pro Bono and Knowledge Management Committees. John counsels clients on all stages of a business, from formation, financing and capitalization to exit strategies. John has a passion for working with entrepreneurs, early stage companies and venture investors. He is proud of Godfrey & Kahn's support of the Wisconsin entrepreneurial community and its efforts to help organize and educate investors and founders through various sponsorships and its Project Innovate program. Connect with him on LinkedIn or learn more at our website!
Jay Creagh is a lawyer in Godfrey & Kahn's Corporate Law and Emerging Companies Practice Groups. He helps founders, investors and emerging companies with formation, financing and any other legal issues that may come up in the early stages of a company's life. In addition, Jay advises clients on complex mergers and acquisitions across multiple industries, including manufacturing, distribution, technology, energy, healthcare and financial services. Outside of law, you may see Jay cross country skiing the American Birkebeiner or surfing on Lake Michigan. Connect with him on LinkedIn or learn more at our website!